Trees form part of our natural world as well as our inner world. The image of a tree generates lots of sensations such as well-being, serenity, and stability. Moreover, it is associated with concepts such as life, identity, and growth. To convey these feelings and ideas to your audience, we offer you 3 free presentation templates and 7 infographics on the theme of trees, available for PowerPoint and Google Slides.
A tree is known by its fruits and a man by his deeds. We often compare trees to humans. Indeed, their shape is reminiscent of ours: roots are like feet, the trunk-like legs, branches like arms, and leaves like fingers. We often see in trees a reflection of our own aliveness. That's why our free presentation templates will definitely generate positive vibes on your public.
Likewise, you will find our 7 tree charts and diagrams extremely useful to transmit a wide variety of notions. Trees have a perfect shape to explain human concepts such as care, growth, hierarchy, cycles, etc. That is why we are able to recommend to you our hand tree diagram, our hierarchical tree, our growth process tree, and many more infographics. Preparing your next presentation will be like a walk in the park!
1. Green Leaves Flat Lay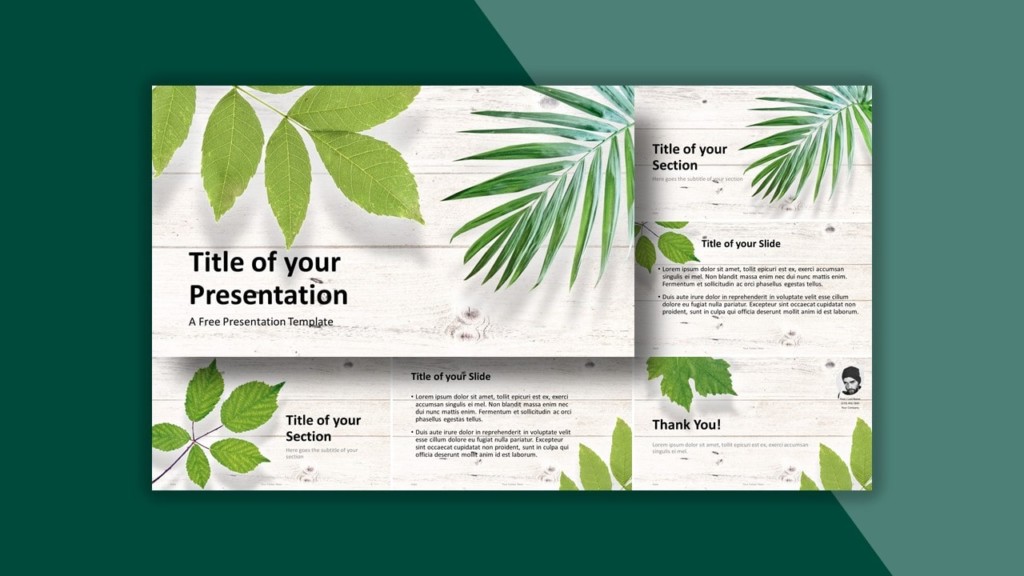 Turn over a new leaf and join the trend of Flat Lay design! Our free Google Slides theme represents a white wooden table upon which green leaves rest. This minimalist layout offers an original background made of ern, hazel, maple, and hickory leaves. Moreover, these will convey a fresh and peaceful summertime atmosphere. This Green Leaves Flat Lay PPTX/POTX template is, therefore, suitable for any presentation linked to gardening, forestry, ecology, botany, green energies, and environmental conservation. Lay your leaves on the table and mesmerize your audience!
2. Foggy Forest
Although trees and forests are generally associated with the green tone, they can transmit different sensations once you remove colors. Indeed, this black and white Google Slides theme and PowerPoint template displays photos of forest mountains with fog. They evoke freedom and exploration. That is why the original backgrounds of these 6 slides are perfect for adventure-related businesses and topics, such as hiking, trekking, mountaineering, and cycling. The misty forests in the mountains also convey a feeling of mystery that you don't see very often in a presentation template. Sometimes people can't see the forest for the trees so help them with this clear and modern free template!
3. Birds
Creative presentation templates don't grow on trees, but you can find a lot of them on www.presentationgo.com! For instance, this Birds Google Slides theme and PowerPoint template offers you a unique and picturesque design made of blackbirds sitting on stylish tree branches. The abstract trees have a modern, dynamic, and artistic design reminiscent of winter leafless trees. Moreover, their layout creates a perfect frame to highlight your titles, text, and pictures. You can apply this free PPTX/POTX template to any topic linked to the environment for personal, educational, and professional presentations.
4. Tree Diagram
Trees are not only living beings. For us humans, they are also metaphors for a lot of things. That is why this free Tree diagram slide has a great number of applications. Since trees represent health, structure, and growth, their image can be used to illustrate ideas or concepts related to these topics, for example, corporate organization. Indeed, any successful company needs strong roots, a solid trunk, and healthy branches, that symbolize diversification. However, you can use this free editable Tree Diagram as a metaphor for a wide range of topics.
5. Growth Process
What better image than that of a small tree growing in a pot to express the concepts of growth, evolution, and progress? The modern design of 4 plant pots at different growth stages is a perfect visual metaphor to expose the 4 stages of your process. Of course, it is ideal to illustrate business or product development. Moreover, you can use this free graphic to show ascending or sequential steps in a task or process.
6. Infographic Hierarchy Tree
This tree is definitely the most abstract one we have in store. This free Infographic Hierarchy Tree diagram displays 6 colorful curved trunks with their respective leaves. Each leaf is actually a text block with diagonal rounded corners. You can use them to illustrate several ideas, concepts, or groups of information. This structure is obviously ideal to show hierarchical information or report relationships thanks to the nodes and branches.
7. Hand Tree
This free PowerPoint and Google Slides infographic template is the ideal metaphor to express the close connection between humans and trees. It represents a forearm (instead of a trunk) and 5 spread-out fingers (in place of branches) with 5 leaves. This original design can be great as a metaphor for the environment, nature, ecology, and community. In addition, the hand conveys the ideas of protection and care. It is also ideal to show the relationship between 5 concepts and a central idea. No doubt your audience will put their hands together for you with such an original template.
8. Infographic Tree
We present you another extremely attractive design that you can use as a metaphor for ideas, thoughts, growth, and success but also environment and ecology. This free infographic tree for PowerPoint and Google Slides showcases a tree with 8 greens leaves, 4 large ones, and 4 smaller, that you can edit according to your needs. Indeed, you can place icons, numbers, or text inside each leaf to make your point as clear as possible. Your presentation will be full of life thanks to this Infographic Tree slide template.
9. Bubbles Tree
This free Bubbles Tree diagram for PowerPoint is a creative way to display your thoughts and ideas. Tree branches and leaves have been replaced by colorful bubbles for you to share your information. You can use this template as a concept map or a way to hierarchize your ideas. Indeed, each bubble can represent a fact, concept, or idea. Since you can edit the size, color, and numbers, you will be able to illustrate your notions and viewpoints perfectly.
10. Hands Holding Plants
Humans and trees become one in this creative illustration. We can see a 3-level tree made of hands of different sizes holding growing plants. This audacious visual metaphor allows you to explain such concepts as growth, care, and knowledge. If you want to illustrate 3 ideas, concepts, or grouped blocks of information, this free Hands Holding Plants template will be the perfect tool, especially if your topic is linked to the environment, nature, or ecology.