If you want to get your message across loud and clear, why not use speech bubbles in your presentations? This tool, so common in comic books, can be used in many ways and for many purposes. Moreover, it will bring a fun, lively, and modern touch to your presentations. So enjoy our selection of 10 free speech bubbles templates for PowerPoint and Google Slides! They will undoubtedly leave your audience speechless!
Speech bubbles, also called speech balloons, is a quite recent graphic invention. However, there is no doubt it is here to stay. Indeed, what better way is there to report the exact words or thoughts of a person? Dialogue balloons are also very effective to transcribe dialogues in a conversation.
In this selection of 10 astonishing speech bubble templates, you will realize their uses are manifold. You will indeed find word balloons for quotes, ideas, and thoughts but also circular and linear process diagrams, radial converging charts, and other specialized slides. Choose the speech balloon template that best fits the needs of your next presentation and download it for free. Remember the bubbles when you are going to give your next speech!
1. Brainstorm and Ideas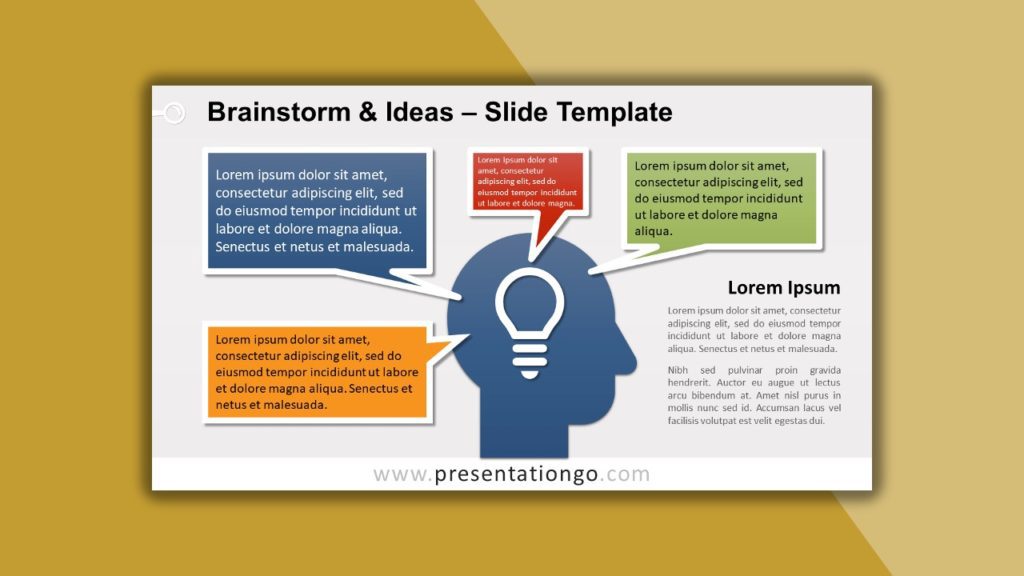 A light bulb inside your brain: the perfect metaphor for brilliant ideas! This is exactly what this free Brainstorm and Ideas template for Google Slides and PowerPoint illustrates. The head silhouette in the center allows you to highlight the cleverness of your thoughts. But how can you express and share them? Thanks to speech bubbles, of course! The head is indeed surrounded by four colorful speech balloons. Besides, there is another text placeholder to describe the main idea of your brainstorming.
2. Speech Bubble Collection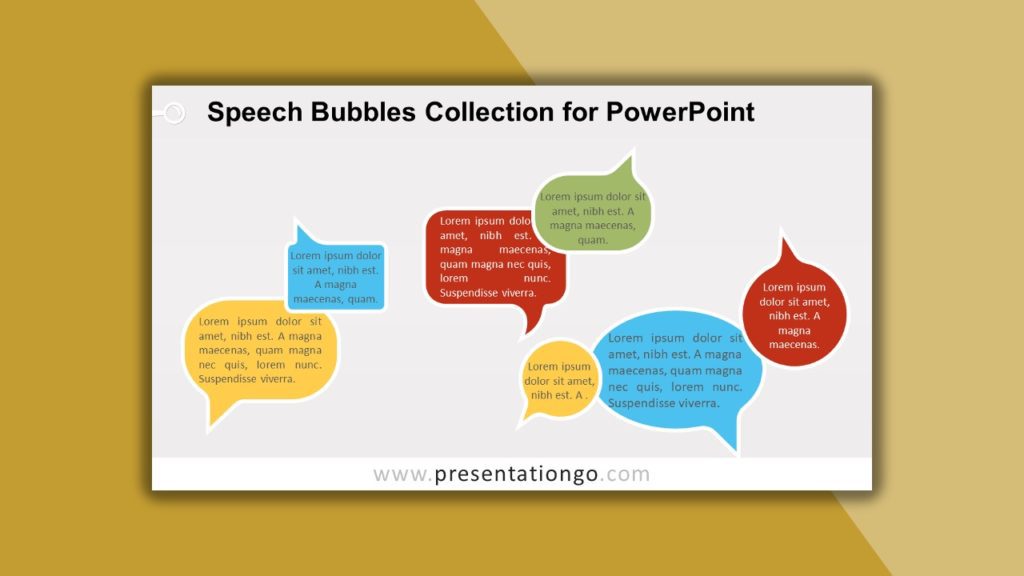 Do you need a speech bubble with a specific shape, size, or color? You will probably find it in our Speech Bubble Collection. Indeed, this free slide for Google Slides and PowerPoint contains a set of seven speech bubble illustrations. You will find round, square, rectangular, and oval word balloons. Of course, you can adjust the size and change the colors if you wish. These speech balloons are ideal to display verbatims, quotes, thoughts, and ideas.
3. Doodle Speech Bubbles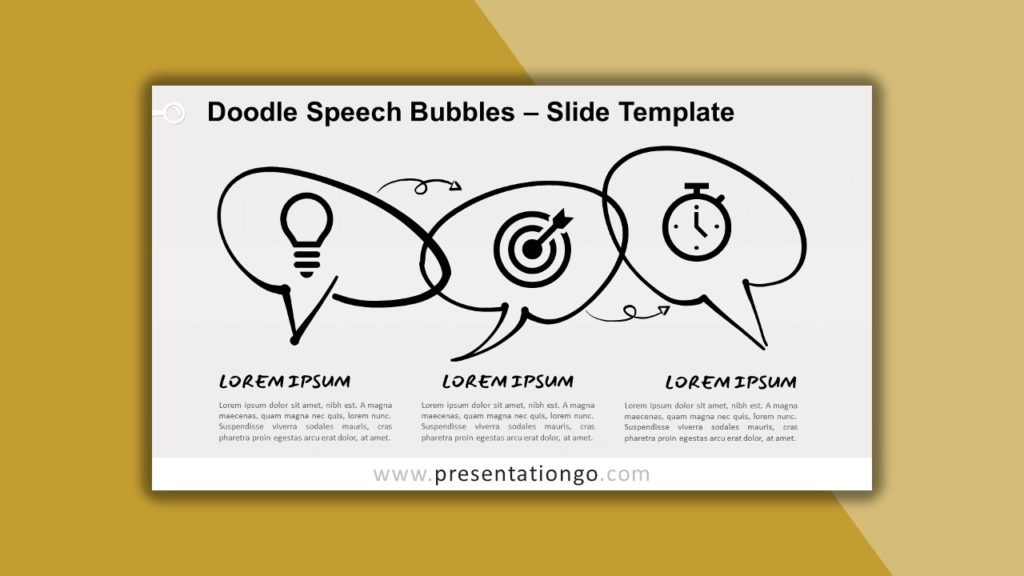 Do you need speech bubbles that look personalized and handcrafted? This Doodle Speech Bubbles template can actually fit a lot of purposes. This illustration with three horizontally-aligned speech balloons can be used to present quotes but also grouped lists of information. You will also find arrows that connect each bubble to the one on the right in order to emphasize their relationship. You can therefore employ this free diagram as a process or workflow chart. So, if you want to give a fun and informal touch to your presentation, download this free template now!
4. Speech Balloon Process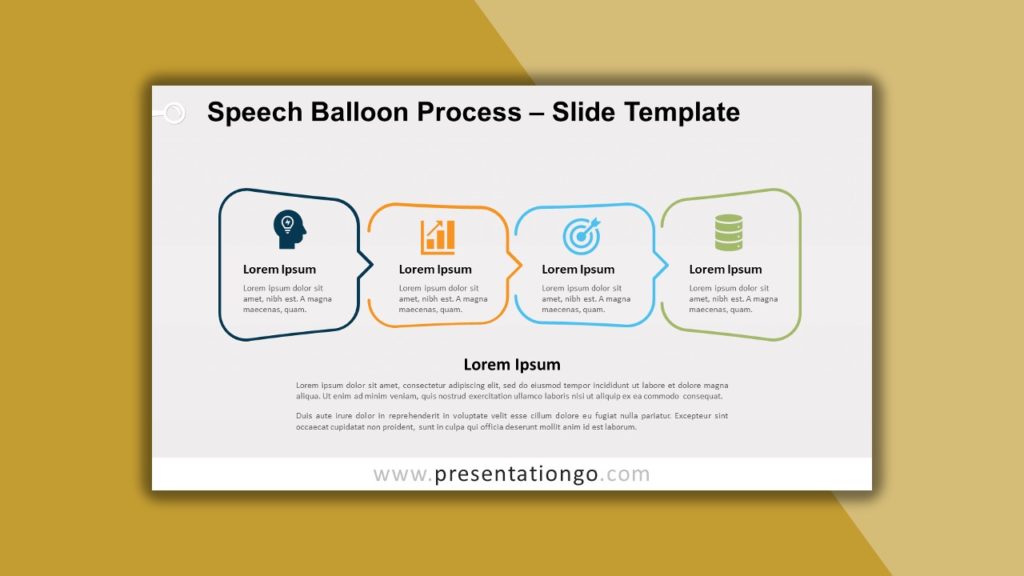 One idea always leads to another! This is the concept this speech balloon diagram will convey to your audience. You can indeed find 4-word balloons aligned horizontally and linked to each other thanks to the tails of each speech bubble. That is why this slide is perfect to showcase the connections and conversions from one step or idea to the next in your tasks, processes, or projects. Moreover, you can include absolutely anything inside each bubble: text, titles, icons, or numbers. So let your ideas speak for themselves with this free Speech Balloon Process slide template!
5. Cycle and Speech Bubbles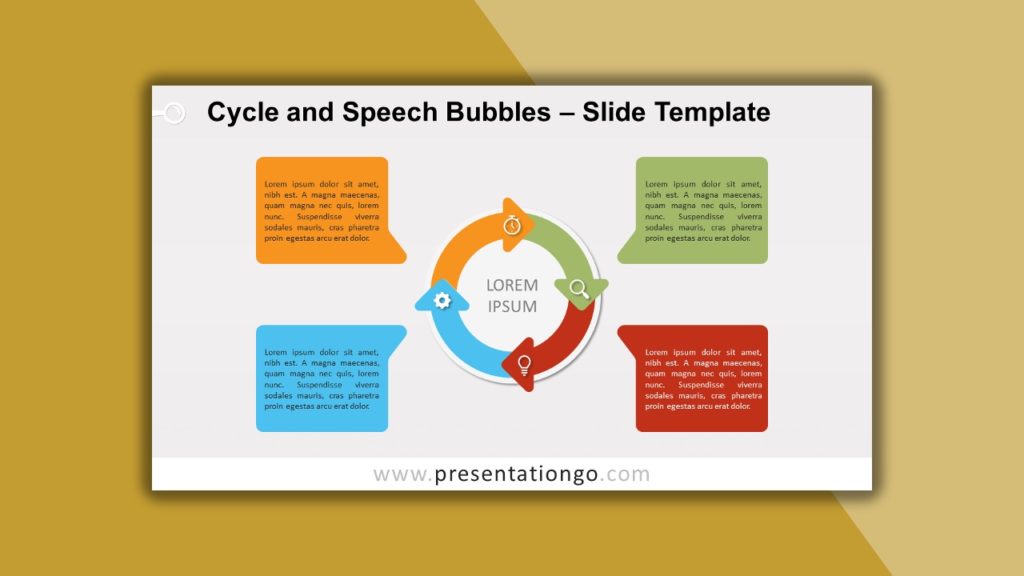 Even your cycle matrix diagram will benefit from a few speech bubbles, 4 to be exact! Indeed, you will be able to present the 4 options (stages, tasks, or steps) of your process or project thanks to the colorful circle in the center. Each stage is represented by an icon and a color that appears again in the 4 speech bubbles located around the circle. Not only can you write your main title at the center of the cycle matrix but you can also use the speech bubbles on the side to describe your stages in detail.
6. Speech Bubble Converging Radial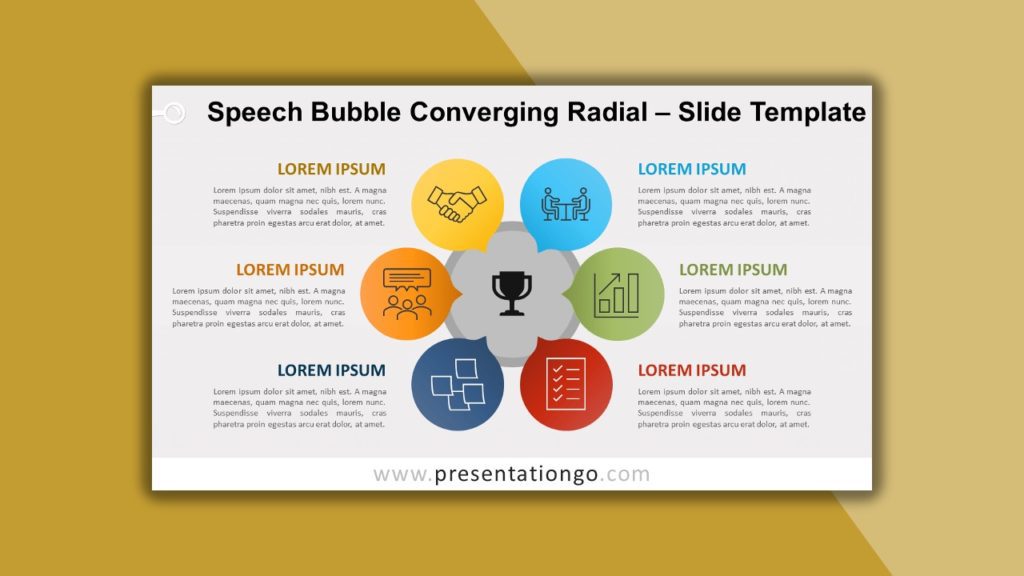 All your ideas communicate with each other. In this free Converging Radial diagram, 6 speech bubbles face the central circle that represents your main concept or idea. Around it, you can find these 6 colorful speech balloons for you to express your thoughts and their relationship with the central idea or objective. This original way to present your thoughts, data, or projects will mesmerize your audience. You just have to choose the right icons and a brief title and text for each idea, and the convincing job is done!
7. Man and Woman Quotes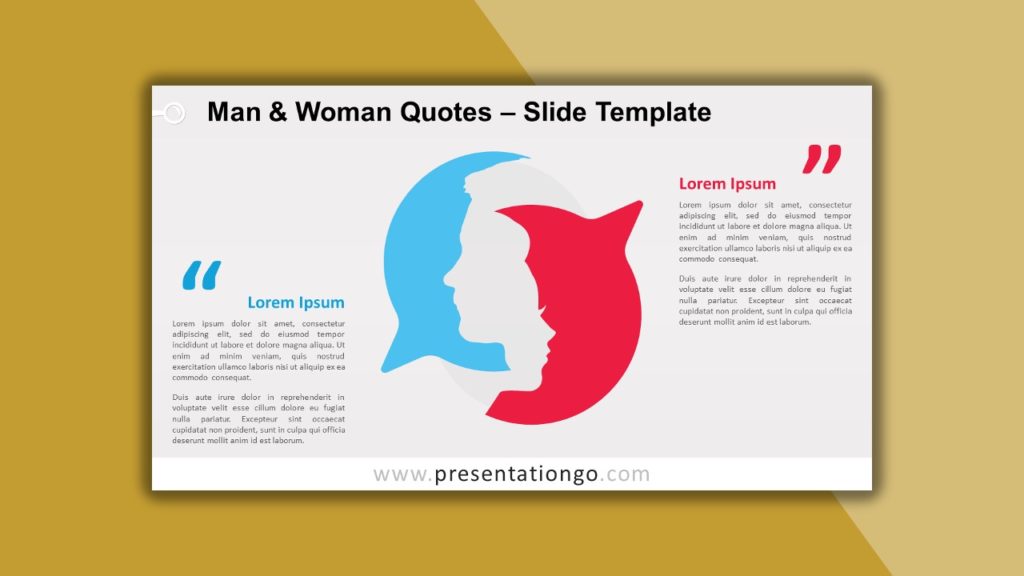 This amazing and unique design is an ingenious tool for you to display two quotes that you want to relate, compare or contrast. One will be a woman's quote and the other will be a man's words. Indeed, the negative space design technique used here represents a man and a woman's head silhouette inside a speech bubble shape. The characters face different directions, thus emphasizing the dichotomy between the man and the woman's quotes or thoughts. That is why this diagram is also ideal to compare the male and the female population, their opinions and perspectives.
8. Speech Bubble Grid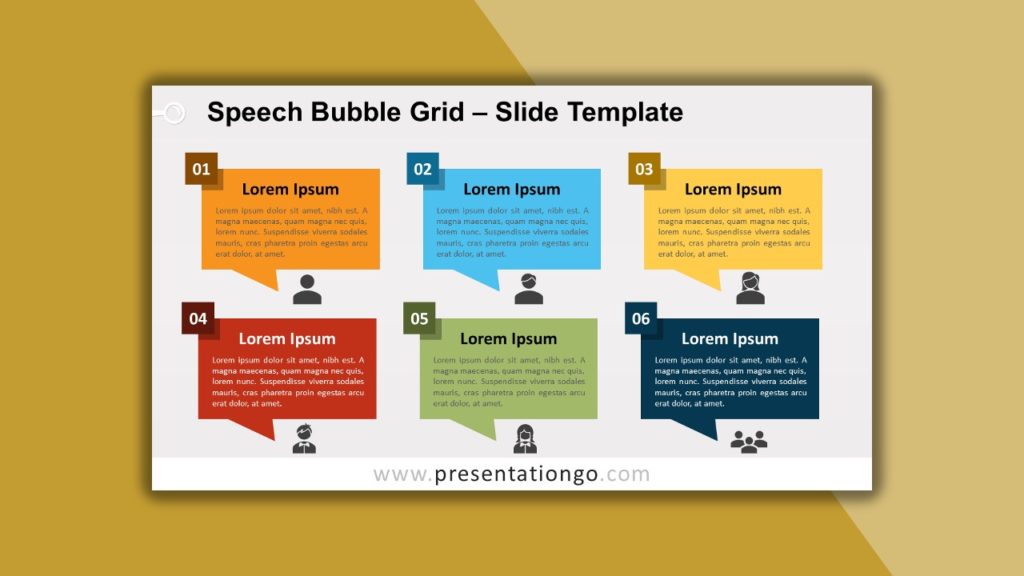 It's time for everyone to speak up! Well, maybe not everyone but at least 6 people. You can indeed find 6 options in this free speech bubble grid for PowerPoint and Google Slides template. The most important part will be the messages, quotes, ideas, or thoughts that you can include clearly in the colorful speech balloons. You can also add a number and most importantly, an icon beneath each speech bubble to symbolize the intellectual author of the idea. Let everyone enjoy their freedom of speech!
9. Brain Quote Diagram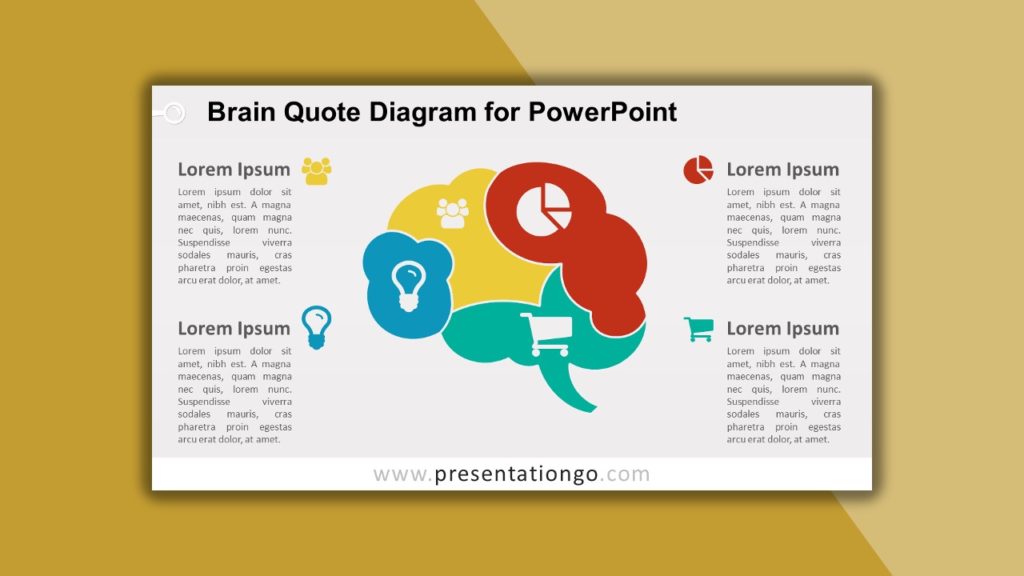 Where do your ideas and words come from? Obviously from your brain! We have therefore created an original design that represents a human brain looking like a speech bubble. The resemblance between both shapes is indeed uncanny. In addition, the brain is divided into 4 colorful parts in order to show 4 ideas, or thoughts. It can also be used as a matrix or to illustrate the concepts of brainstorming, mind, and creativity.
10. Businessman with 4 ideas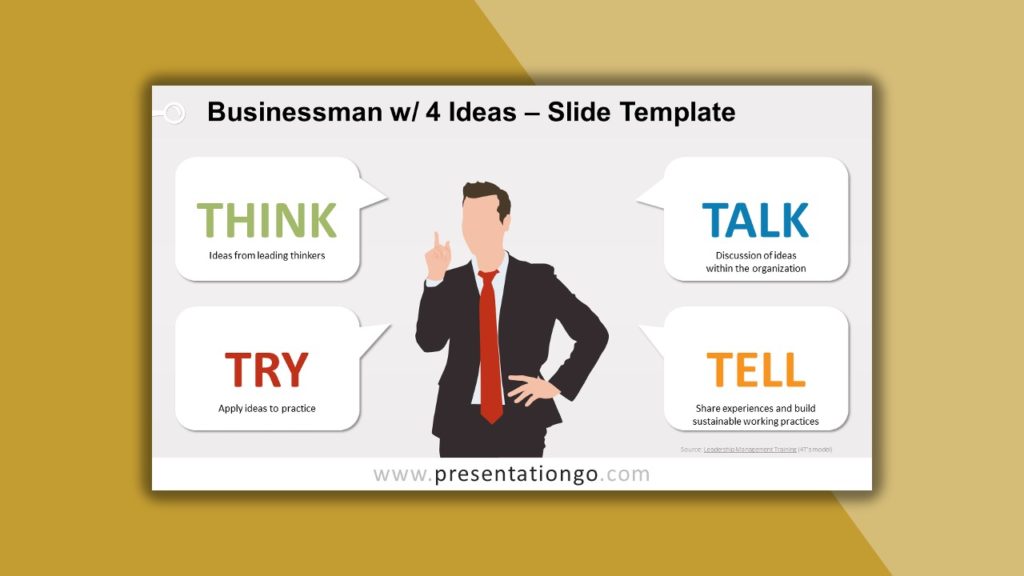 This businessman is never short of ideas! He actually has 4 at the same time. Thanks to this free Businessman with 4 ideas template slide for PowerPoint and Google Slides, he can express all of them at the same time! Around the businessman silhouette, you will indeed find 4 speech bubbles, ideal to illustrate 4 ideas, concepts, or projects. So unleash the leader inside you and share your brilliant ideas with the world!
We hope you like our selection of the 10 Astonishing Templates with Speech Bubbles for Presentations.