For your text boxes, think outside the box! You don't have to use the same old rectangle to highlight your text: there are hundreds of fun and original ways to display your information. This article introduces you to 10 creative text box templates for PowerPoint and Google Slides. So use your think-box to choose the text box that will best suit your needs!
Text boxes are one of the most common features on presentation slides. Unfortunately, they can be quite dull and hackneyed. If you really want your audience to grasp your message, an attractive and eye-catching design is what you need. Your toolbox for text boxes must include bright colors, unusual shapes, and easy-to-read layouts.
The main purpose of text boxes is to draw attention to specific text, whether it is facts, information, numbers, or ideas. Depending on your communication objective, you can use the shape that helps you best to get your message across: blocks, banners, horizontal or vertical lists, speech bubbles, specific shapes such as door hangers or traffic cones, etc. Remember this selection is just a tiny part of all the free text box templates you can find on our website!
1. Colored Pencil Vertical List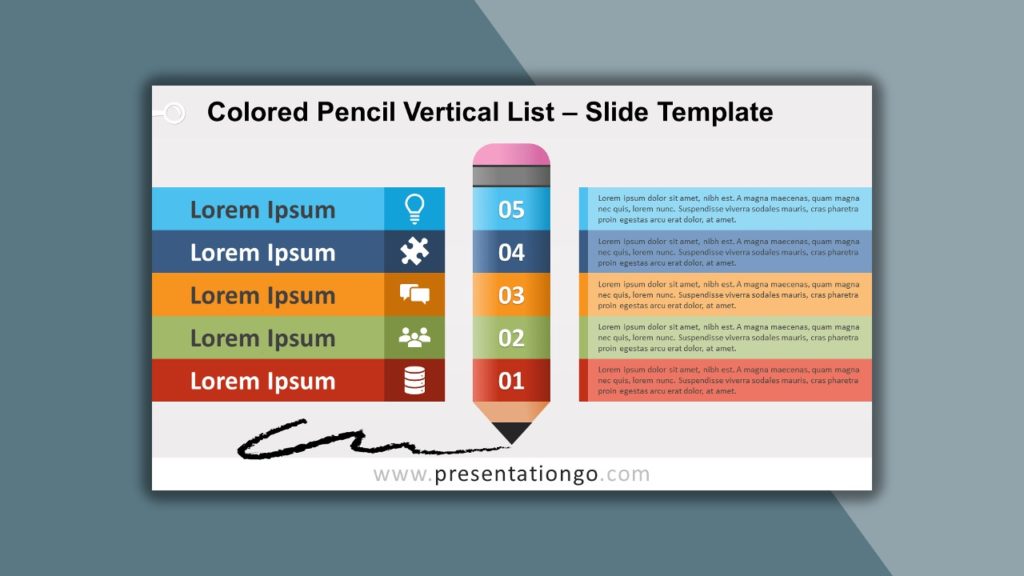 Do you need to make a list of 5 items that your audience will remember? This free template offers you an attractive design illustration of a colored pencil. Moreover, the vertical list is a fun alternate option for your classic bullet list, especially for topics linked to creativity, writing, and education. The pencil stands in the center and you can include numbers on it. On the left side, you can write your titles and include icons too. On the right side, you will find colorful text boxes to specify your information. This infographic is also ideal for tables of contents or the steps of a process.
2. Door Hangers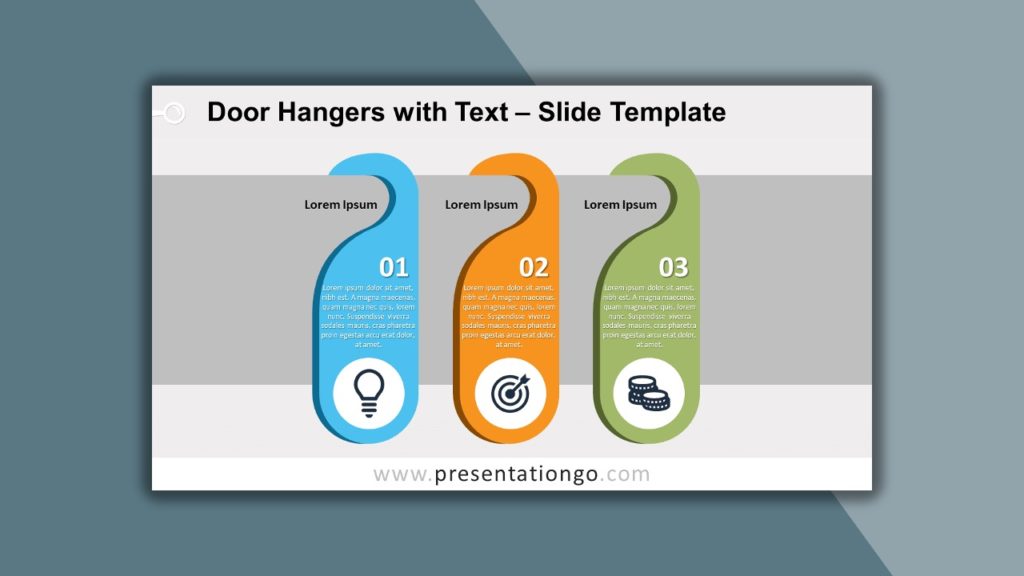 Don't leave your audience hanging! Show them your ideas thanks to the 3 door hangers of this original template for PowerPoint and Google Slides. It consists of a gray horizontal banner, over which you can find colorful door hang tags. Inside them, you can include your titles, numbers, text and icons. To draw people's attention, there is nothing like a door hanger. So use this slide to illustrate your ideas, concepts, or lists of information. No doubt you will open doors for yourself!
3. Cascading Text Blocks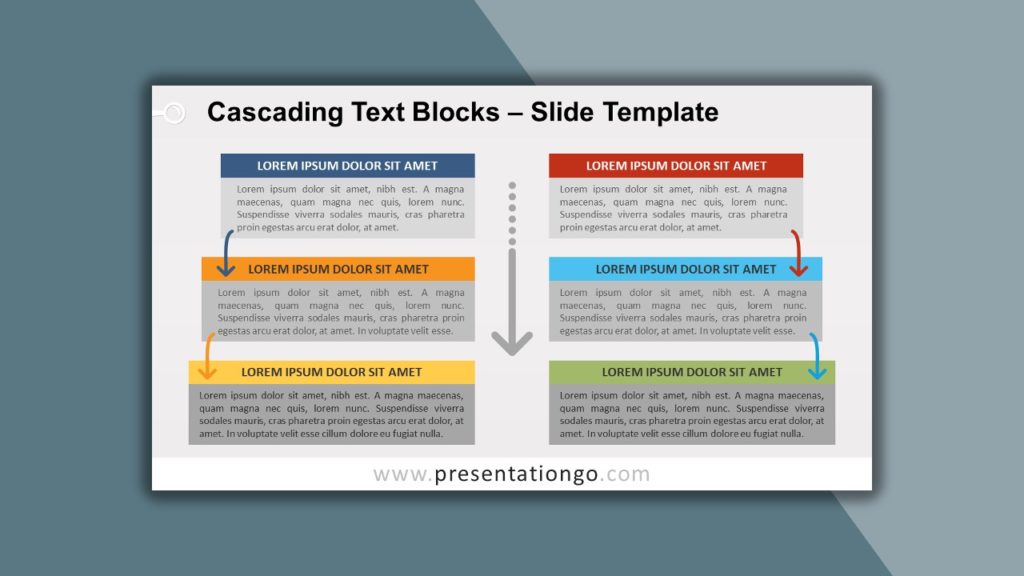 An idea usually leads to another, which leads to a new one, and so on. To visually represent these connections, this free Cascading Text Blocks template is the tool you need. Thanks to the arrows, you can use it to showcase a descending sequence of 3 stages, tasks, or events. It is also perfect to illustrate proportional, interconnected, or hierarchical relationships. Indeed, the text blocks become bigger as we go down, just like a pyramid. Since you have 2 sets of three blocks, it is useful to compare groups of information at different levels. Enjoy this multipurpose template and go down the river of success!
4. Split Banners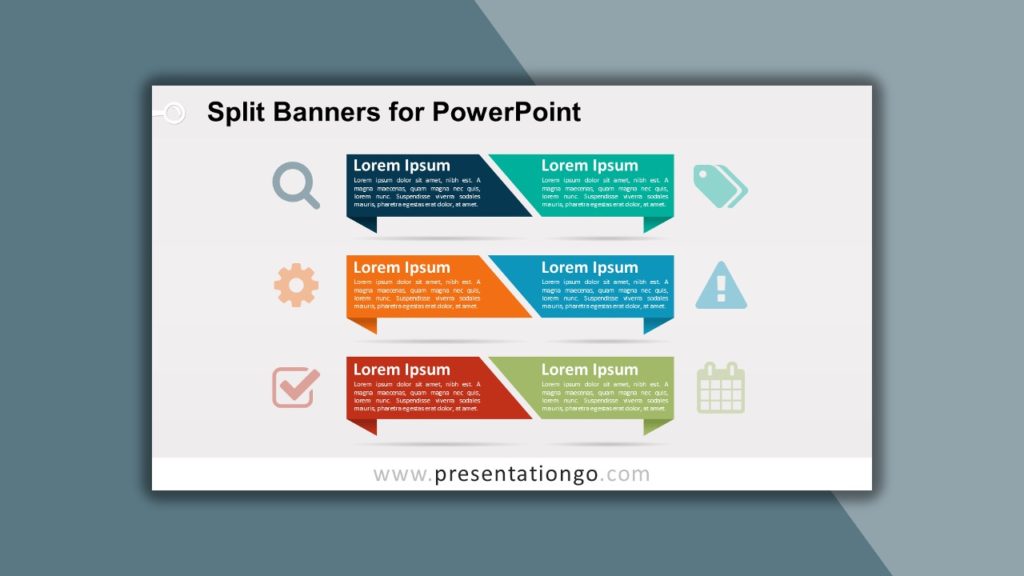 Thanks to this free Split Banners template for PowerPoint, you will charm your audience in a split second! The 3 ribbons of this design present joyful colors and a shadow effect. Besides, they are diagonally cut in the center for you to show two ideas on the same banner. You can either compare and contrast them, or associate them. You can therefore display up to 6 ideas, concepts, or groups of information. In addition to your text, icons and titles can also be included.
5. 4 Text Boxes with Hands Counting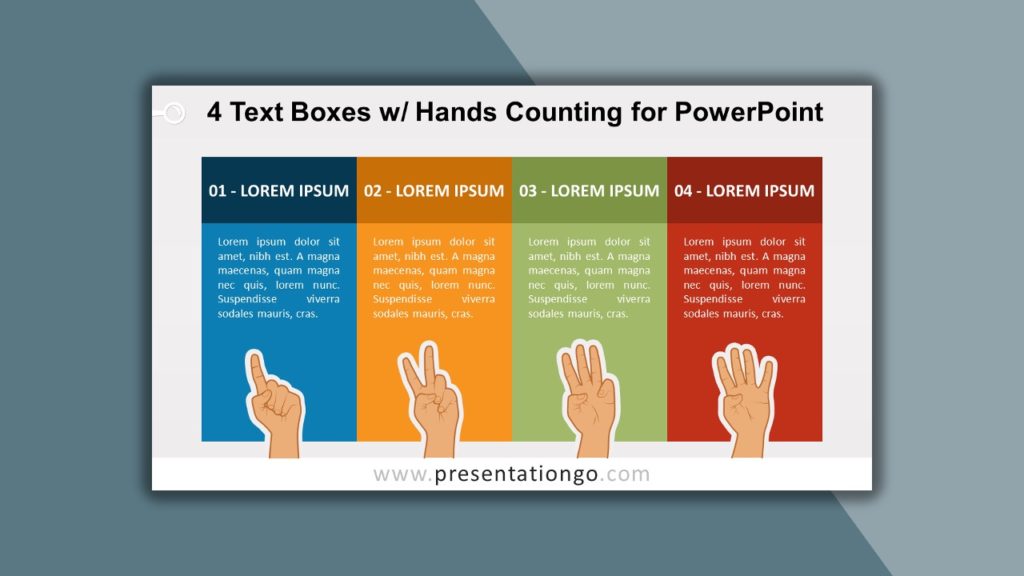 Forget about plain black and white text boxes and color up your presentation with this free 4 text boxes template! Your information will be conveyed clearly thanks to the horizontally-aligned banners that allow you to include numbers, titles, and a fair amount of text. Furthermore, you can find illustrations of finger-counting hands for each text box (1-2-3-4). That's why this slide is suitable for a wide range of purposes. You can indeed show and compare 4 ideas, concepts, or groups of information and display a progression in a task, process, or workflow. It also works perfectly as a pricing table or a timeline.
6. Abstract Fluid Bubbles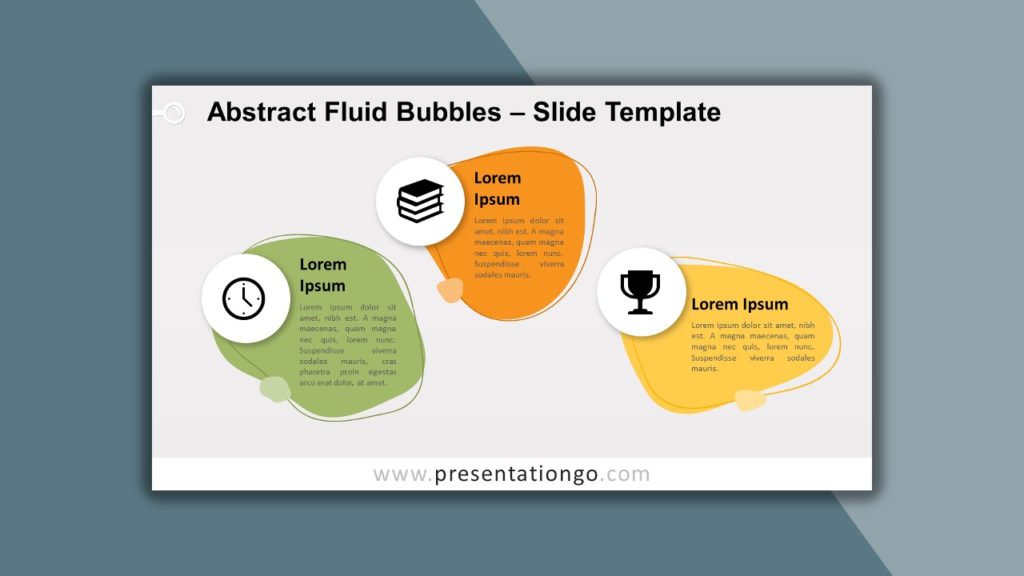 Let your ideas flow thanks to this free Abstract Fluid Bubbles template for PowerPoint and Google Slides! It is a perfect way to share basic information with your audience in a stylish way. You can indeed use this set of 3 colorful liquid bubble shapes to display ideas or non-sequential or grouped blocks of information. The 3 independent bubbles, which also look like paint splatters, include a white inset circle to include icons or numbers. Thanks to such a slide template, your bubble of success will never burst!
7. Speech Bubble List
Most presentations include simple information that you wish to show in an attractive manner. This free Speech Bubble List offers you the creative touch you need to reach your audience efficiently. You can actually enjoy the beautiful gradient color of each one of the 4 vertical blocks to highlight your information. Besides, the text blocks include a double header shaped like a speech bubble to display an icon, number, and title. Let your ideas be your spokesperson!
8. Step-up Vertical Banners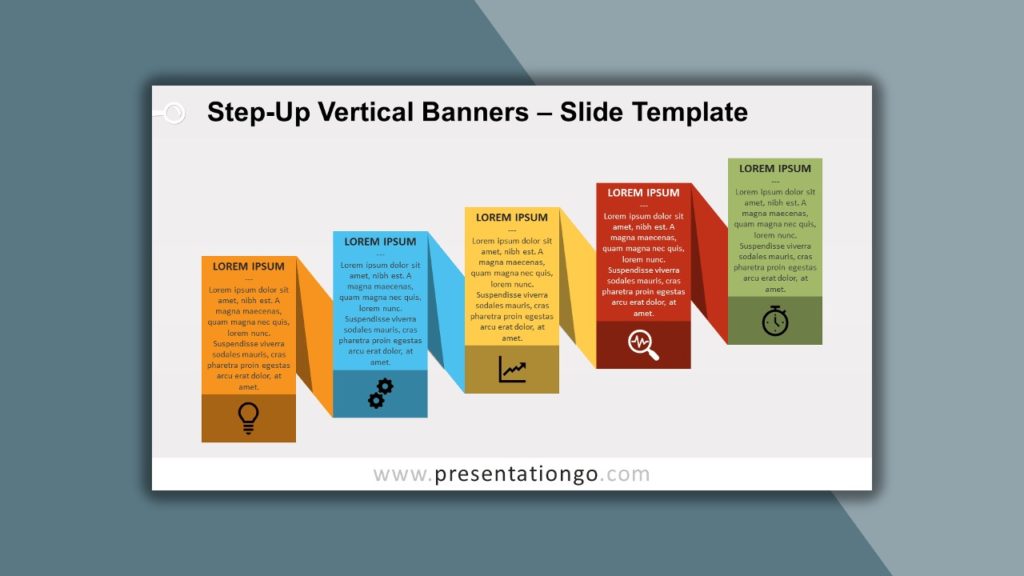 Here goes another highly original template for you to display your information, your list of events in chronological order, or even ascending steps in a progression. This attractive and colorful design is indeed made up of 5 folded banners that go up from left to right. Each one of the vertical banners includes text placeholders and spaces for icons at the bottom. Step up the quality of your presentations with this free Step-up Vertical Banners template!
9. 3D Blocks and Text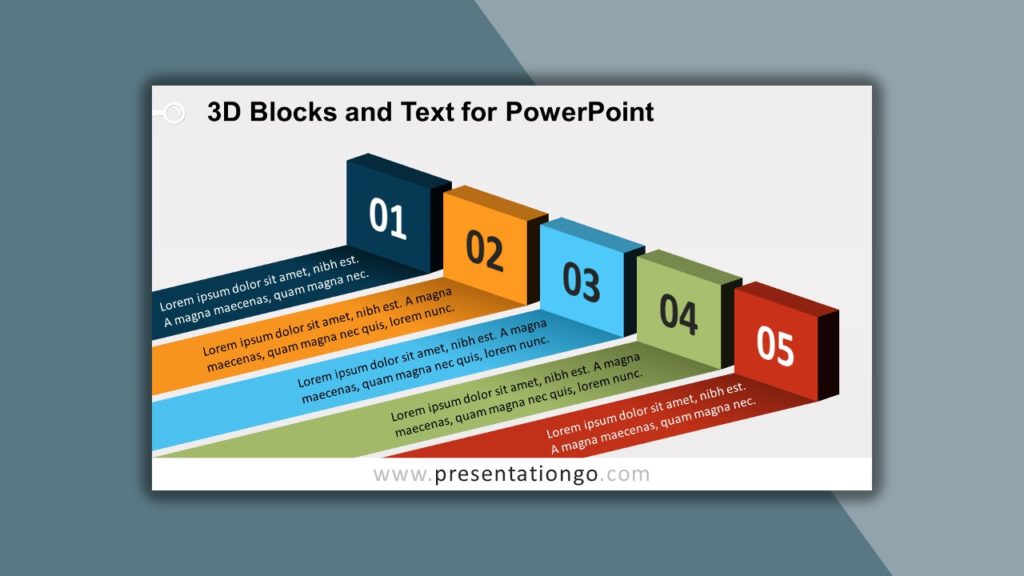 Put your ideas on the starting blocks and let them race as fast as they can! This 3D design can indeed remind us of a racing track with 5 lanes, each one with its bright color and final block where you can insert icons or numbers. It is therefore ideal to illustrate up to 5 ideas, concepts or groups of information, but also to show a progression or 5 steps in a task, process, or workflow. Time to share your ideas in 3 dimensions!
10. Vertical List with Traffic Cone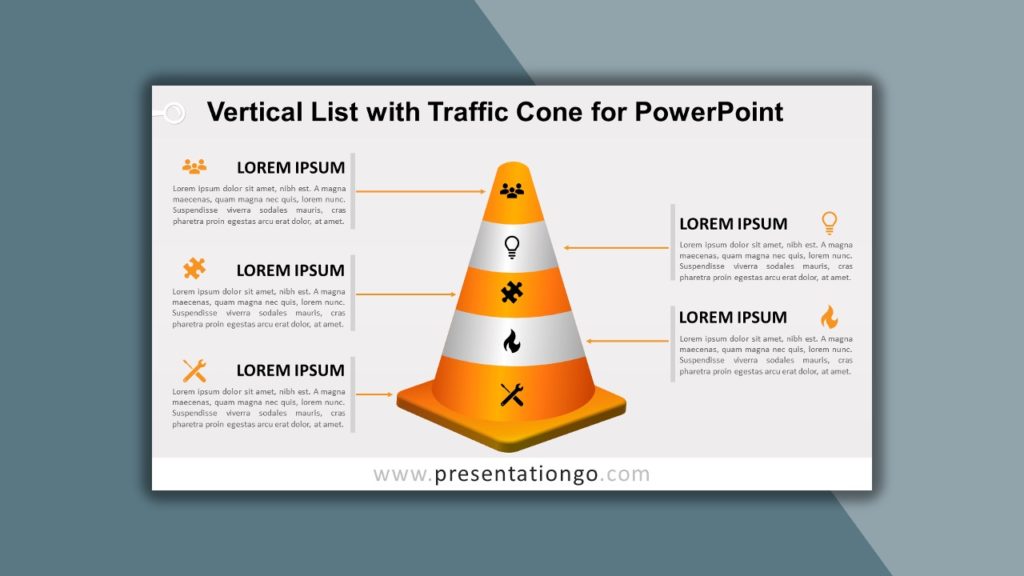 Traffic cones usually warn us about possible threats or dangers. Thanks to their white and orange colors, they are easy to see and draw everybody's attention. The specific traffic cone of this design includes 5 vertical parts (5 stripes) in which you can include icons. Each part is linked to a text placeholder thanks to an orange arrow. Use it to show a list of 5 elements or a descending/ascending process with 5 steps.
We hope you like our selection of the 10 Creative Text Box Templates for Presentations.