Do you need attractive and eloquent slides for your next presentation? Then let's get down to business! We have selected for you 10 templates that include figures of business people. Their purposes are manifold: you will indeed find metaphors, matrices, process diagrams, and more. Browse our 10 fantastic slides with business people silhouettes and choose your favorite ones!
Silhouettes are defined as dark shapes seen against a light surface. This visual contrast generally creates strong images, easy to spot and interpret. Nevertheless, most of our business people's representations actually include more detailed graphics: business suits are clearly outlined and the characters' positions, movements, and attitudes are easily recognizable. Besides, they don't have facial features, which allows everybody to identify with these characters.
You will come across original personifications of super business people and a set of 11 silhouettes that you can use in any of your personalized slides. You will also find specific business tools, such as a SWOT matrix and a sequential process diagram. Finally, you will be able to use metaphorical graphics, such as businesspeople shaking hands, reaching for the sky, or playing tug-of-war. There is even a slide of a businessman giving a visual presentation which could be your avatar. Make business rhyme with success with these 10 free slides!
1. Super Businesswoman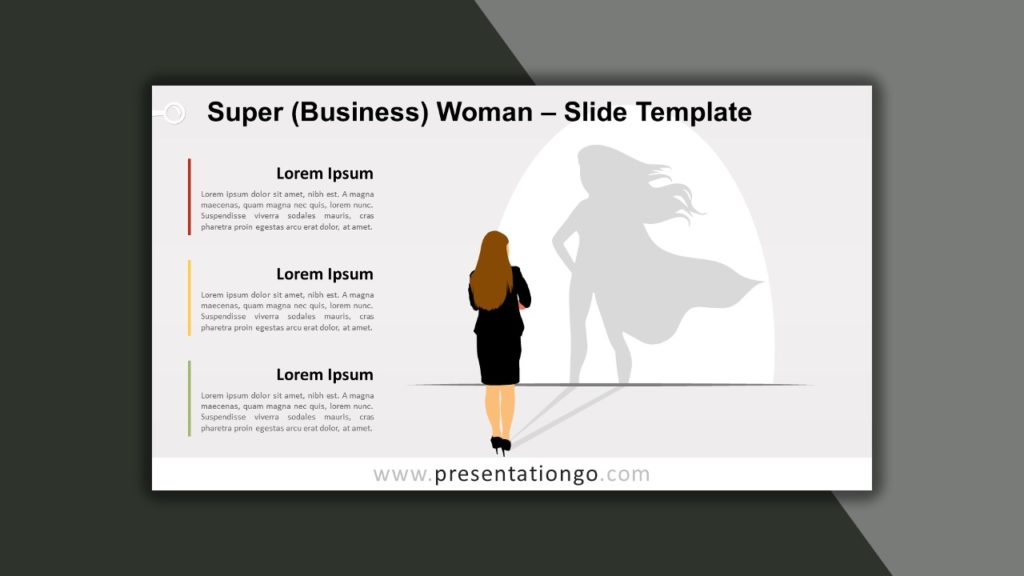 Superheroes don't necessarily have to dress up with a cape and a mask. They can also wear a business skirt suit and high heels! This free Super Businesswoman slide for PowerPoint and Google Slides is the living proof of it. Indeed, this cartoon illustrates a businesswoman looking at her superhero shadow on the wall, which has a cloak and her hair blowing in the wind. This metaphor can be used to discuss topics like gender parity, successful (business) women, leadership, etc. You will also find the equivalent slide for businessmen on presentationgo.com.
2. Business People Silhouettes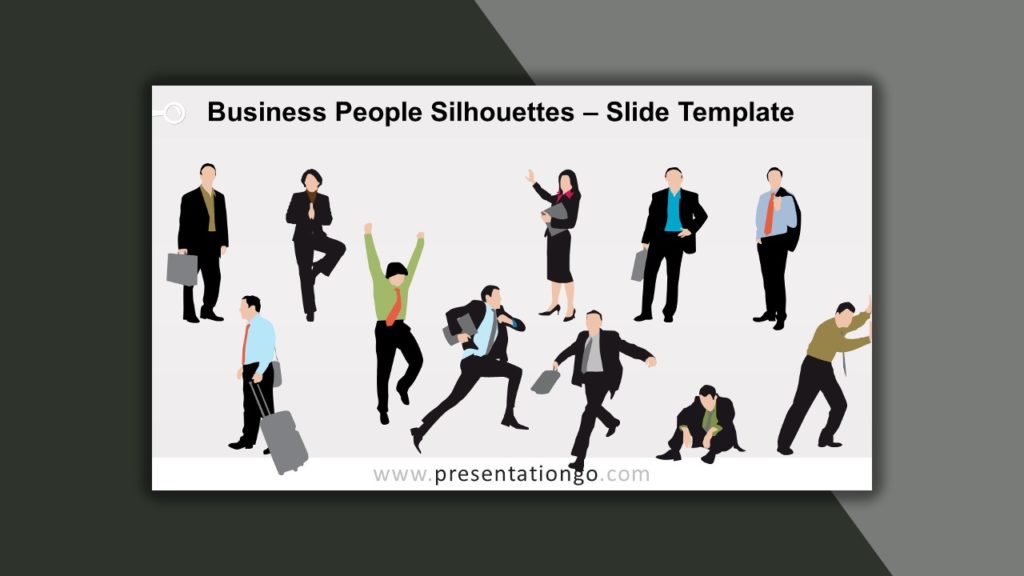 This slide offers a varied collection of 11 businessmen and businesswomen in different positions and with diverse attitudes. Each one of them conveys a different feeling and illustrates problems encountered and actions taken by business people. You will find people in business suits joyfully running with their briefcases, seriously, casually, or meditatively standing, and even traveling with their suitcase. You will also see a silhouette sitting on the floor in resignation and another with the arms in the air to show victory or success.
3. Businessman with 4 ideas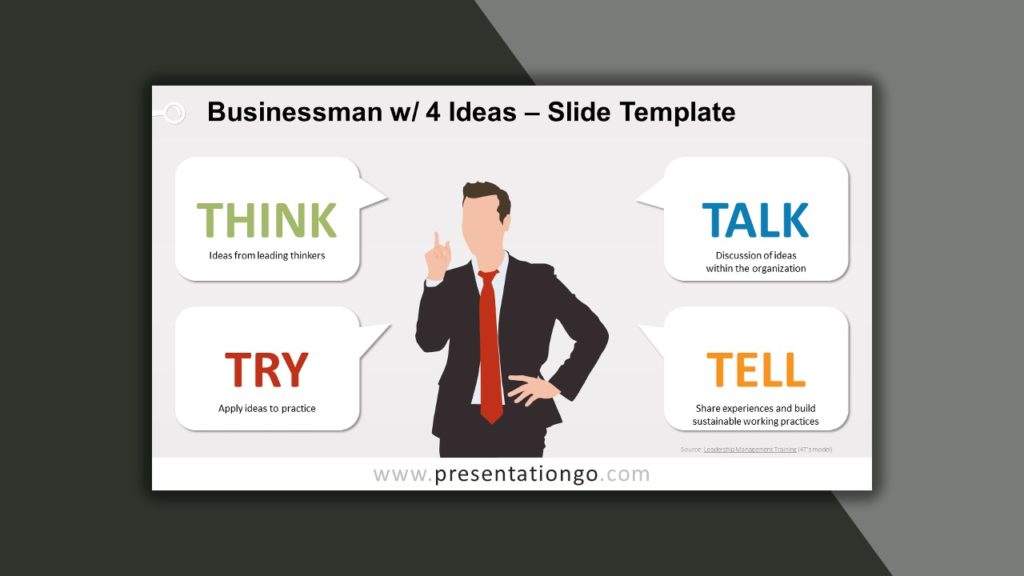 Great business leaders are never short of ideas! This free template is the illustration of it. Indeed, it represents a businessman with a gray suit and a red tie, who stands in the center of the image with a positive and didactic attitude. Around him, you will discover 4 speech bubbles that you can edit thanks to text placeholders with your concepts and ideas. Of course, it can also be used as a matrix. Expose your bright ideas with this bright slide template!
4. 2 Business People Shake Hands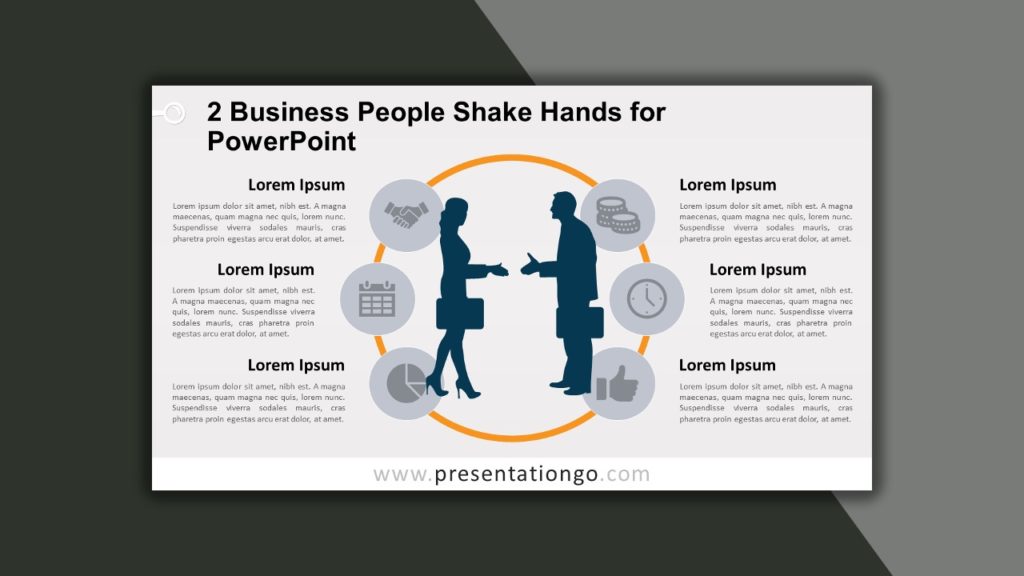 That's a done deal! Do you want to illustrate a business agreement, deal, partnership, contract, or commitment? This free PowerPoint template displays a businesswoman shaking hands with a businessman. Both blue silhouettes stand in the center and they are surrounded by a cycle diagram containing 6 round frames for you to include your icons. Besides, you can explain each part of the agreement or collaboration thanks to text placeholders. Seal the deal with this eye-catching slide!
5. Business People Silhouettes – Man and Woman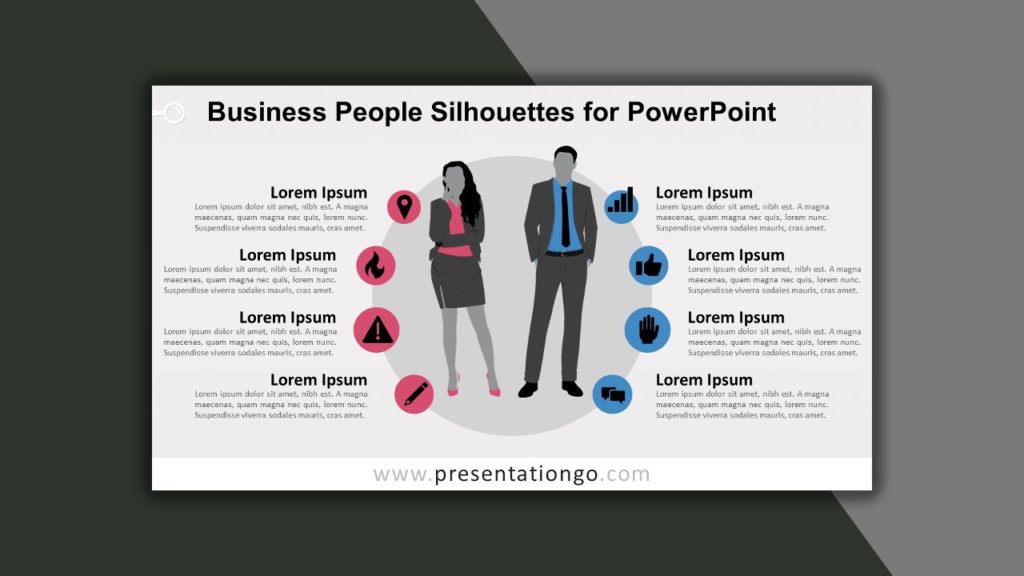 This original slide showcases the gray silhouette of a businesswoman with a skirt suit, a pink blouse, and pink high-heeled shoes. On her right stands a businessman in his suit with a blue shirt. Around them is a gray circular shape with smaller circles, 4 on each side. You can use them to insert icons or numbers. In addition, you can use the text placeholders on the side. This template is perfect to share and compare business ideas.
6. The Sky's the Limit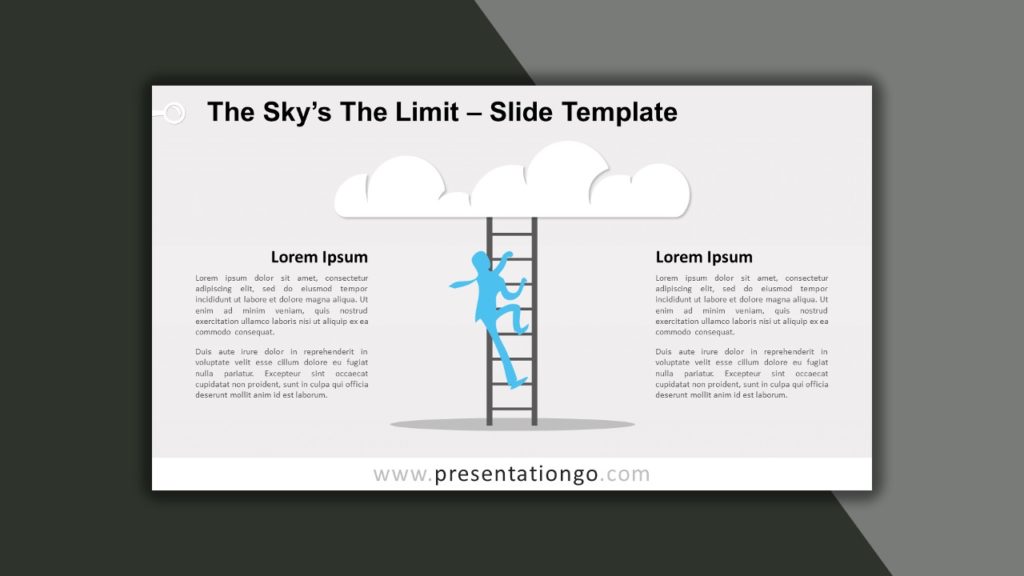 Show your ambition with this free The Sky's The Limit slide template for PowerPoint and Google Slides! It shows a businessperson climbing up a ladder that reaches a cloud, which of course symbolizes the sky. This visual metaphor can represent many things in the business world: vision, effort, confidence, leadership, and success. You can use it as an inspirational illustration to convey your positive attitude towards the future. Moreover, you have text placeholders on each side to get your message across and inspire everybody.
7. Tug of War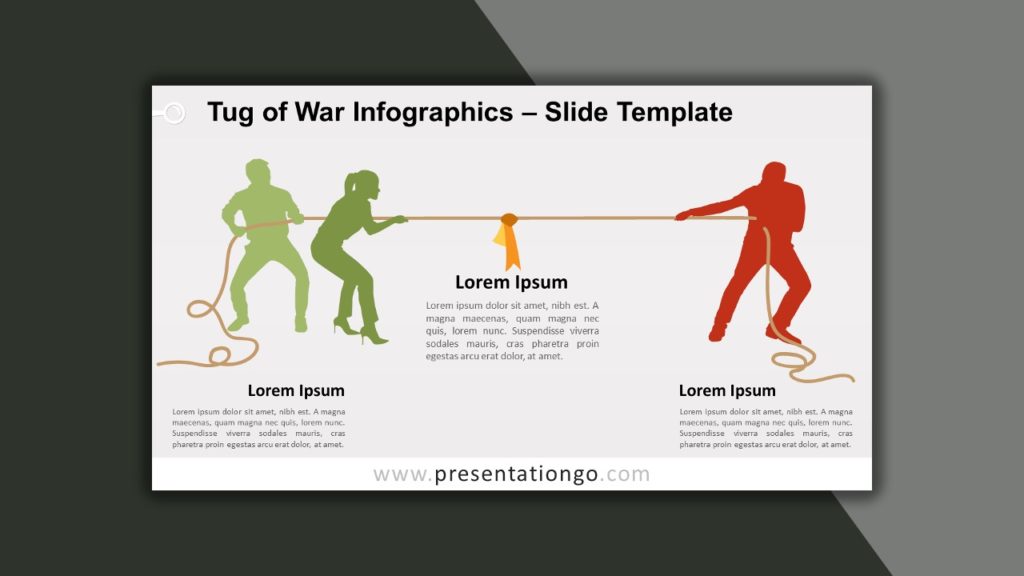 Tug of war is not only a game of strength and coordination. It can also be the perfect metaphor to talk about teamwork, strategy, strengths, and weaknesses. This creative design presents two green silhouettes on the left pulling a rope with an orange ribbon in the center. On the other side is the red silhouette of a man trying to resist. The green and red colors can evoke things to do and not to do, or the strengths and weaknesses of a team.
8. 5 stairs and steps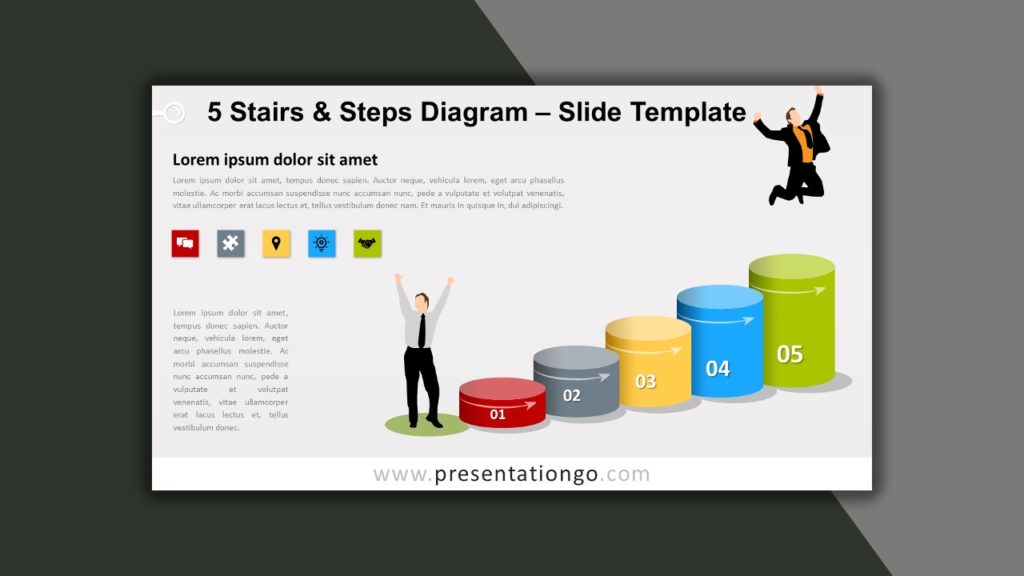 This free diagram with 5 stairs and steps for PowerPoint and Google Slides could also be called "The road to success". It indeed represents 2 businessman silhouettes. One stands at the beginning of stairs made of 5 colorful cylinders and the other is at the top, celebrating the success of his enterprise. This infographic is perfect to show 5 sequential or incremental steps in a task, process, or workflow. It displays numbers and arrows to illustrate the evolution. Besides, you can include text and icons on the left side. You can also use this template slide to talk about human resources, career steps, career development, business growth, teamwork, management structure, staff positions,success, progress, etc.
9. Businessman and Projection Screen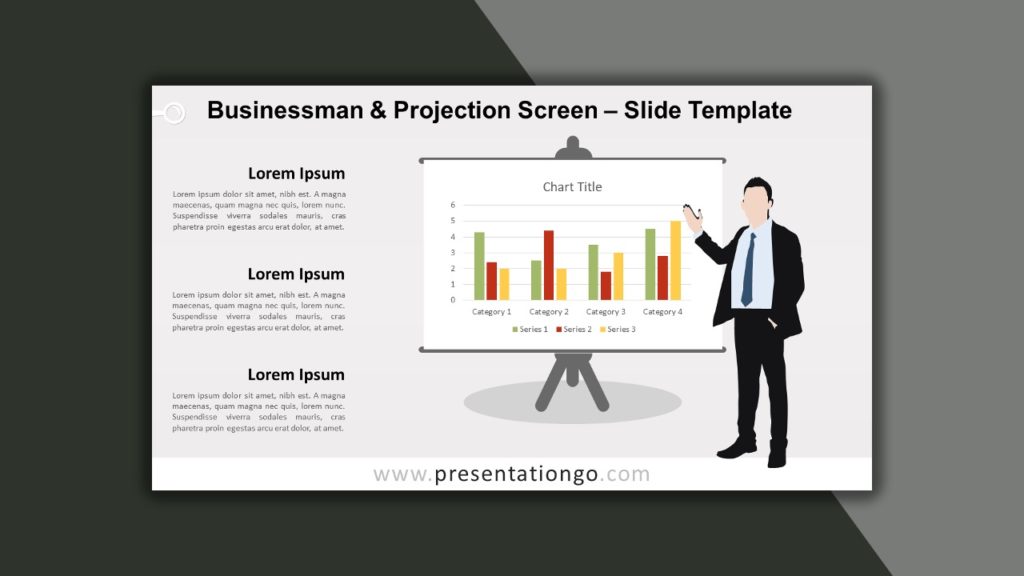 It's an image inside an image inside an image… The Droste effect of this free slide will create a strong impact on your audience. It represents a businessman standing (who can be yourself of course), presenting and pointing at a projection screen. This is where you can insert your content. You also have text placeholders on the left to specify your charts and findings even in more detail.
10. SWOT and Businessmen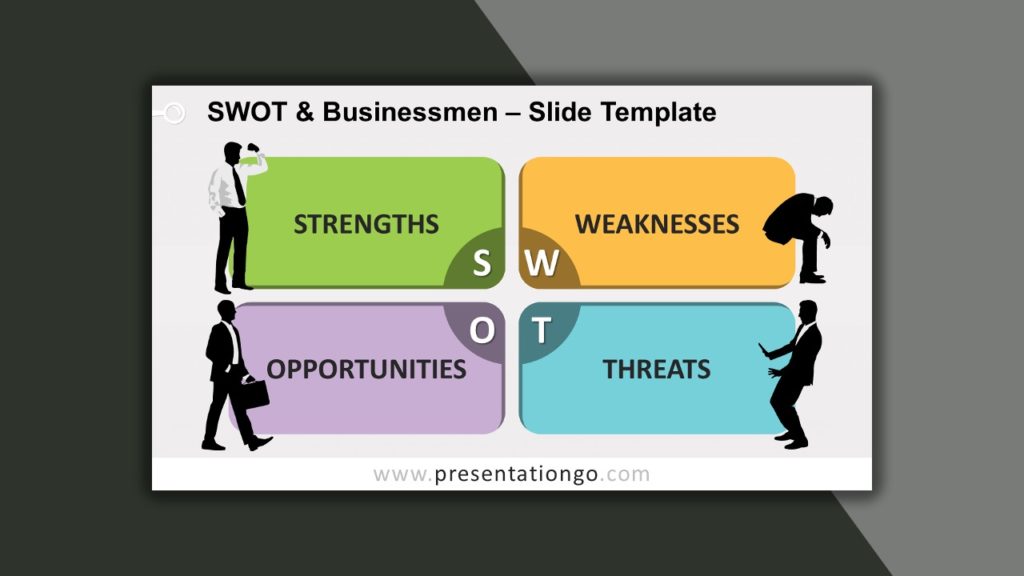 At last an original way of sharing your SWOT analysis! This free SWOT and Businessmen template is actually a series of 5 slides: a general one and 4 others to represent your Strengths, Weaknesses, Opportunities, and Threats. This famous business matrix reaches a new dimension thanks to the silhouettes of 4 businessmen in different postures that represent the 4 elements of the SWOT chart.
We hope you like our selection of the 10 Fantastic Slides with Business People Silhouettes.