Arrows are not only projectiles that reach their target; they are also signs that show you the way to follow. The universal symbolism of arrows turns them into fantastic tools to illustrate your presentations. Therefore, we have selected 10 free slides with arrows with many purposes. Choose your favorite one and get armed for your next presentation!
As weapons, arrows symbolize strength and precision. As signs, they represent direction and guidance. This perfect combination allows you to use them for a great number of objectives, or targets. Of course, you can indicate the sequential steps or stages of a task, process, or workflow. Besides, you also have the ability to use the shape of an arrow to show a timeline and different events in chronological order. Don't we use indeed the expression arrow of time to describe the one-way direction of time? Finally, you can use the arrow to illustrate your aims and how you want to reach them.
You will find a great variety of slides that include arrows of different sizes, colors, and shapes, pointing up or to the right. Browse these 10 sharp slide templates and pick the ones you need. Thanks to this incredible selection, you now have 10 arrows in your quiver to choose from for your next presentation.
1. 4-Step converging arrows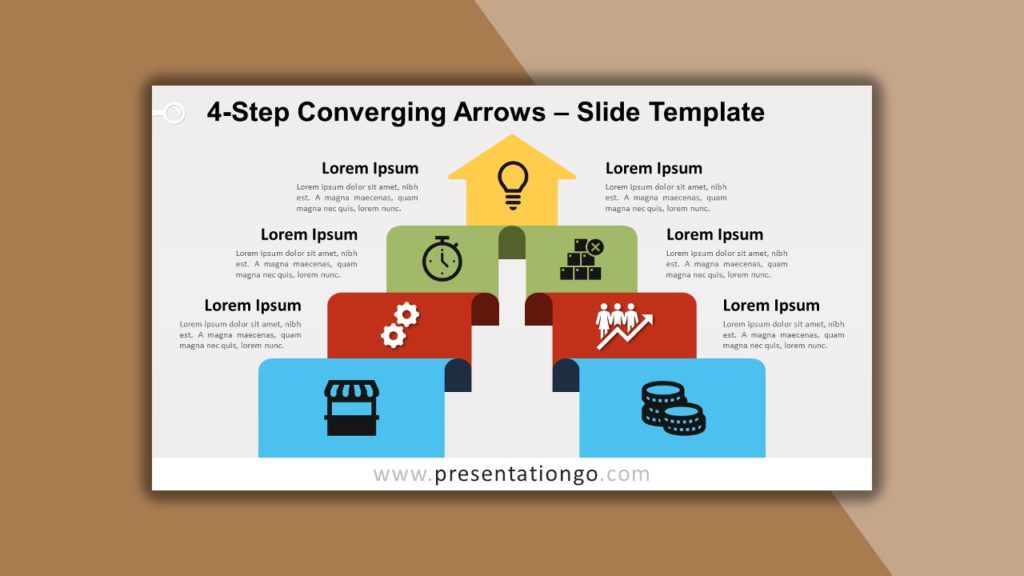 What if there were not only one stairway to heaven but two? This free diagram offers you two arrows that merge into a single arrowhead pointing at the sky. These are made up of two folded ribbons that form 4 stairs, each one with a different color, which represent your 4 steps. This template is perfect to illustrate the increasing evolutions of two linear processes and their conversion into a single one. Moreover, it strongly suggests the notions of growth and success.
2. Jellyfish Arrow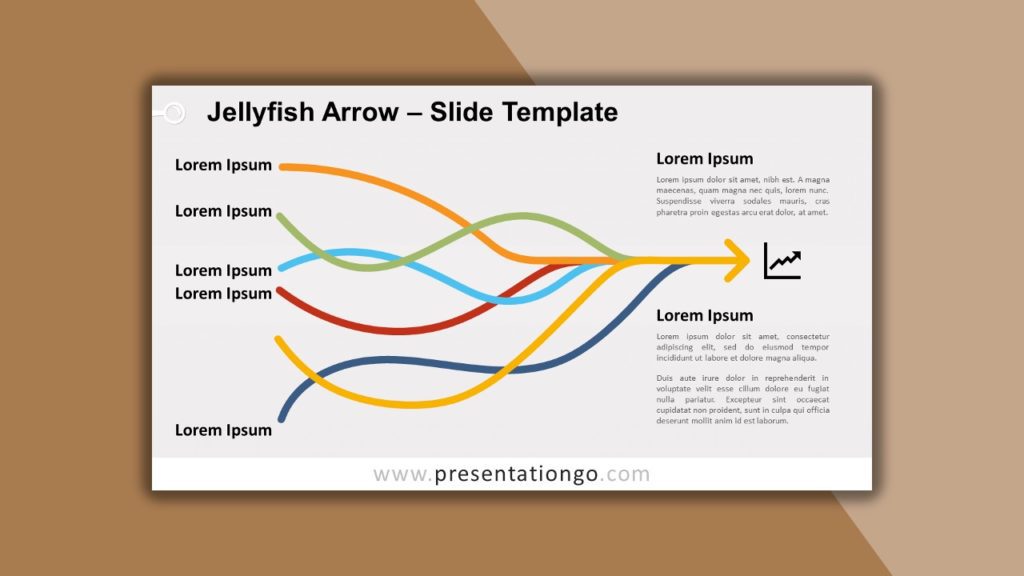 All roads lead to Rome and all the jellyfish tentacles lead to its bell-shaped body! In our diagram, the latter has been replaced by a single arrowhead. This free infographic presents a series of swaying and wavy arrows converging to the same place. Therefore, you can use this slide to show how different events or actions can lead to a common outcome, to portray the different variables of an event or the different causes that lead to a single result. The preparation of your presentation will be swift as an arrow, or a jellyfish!
3. Growth Folded Arrow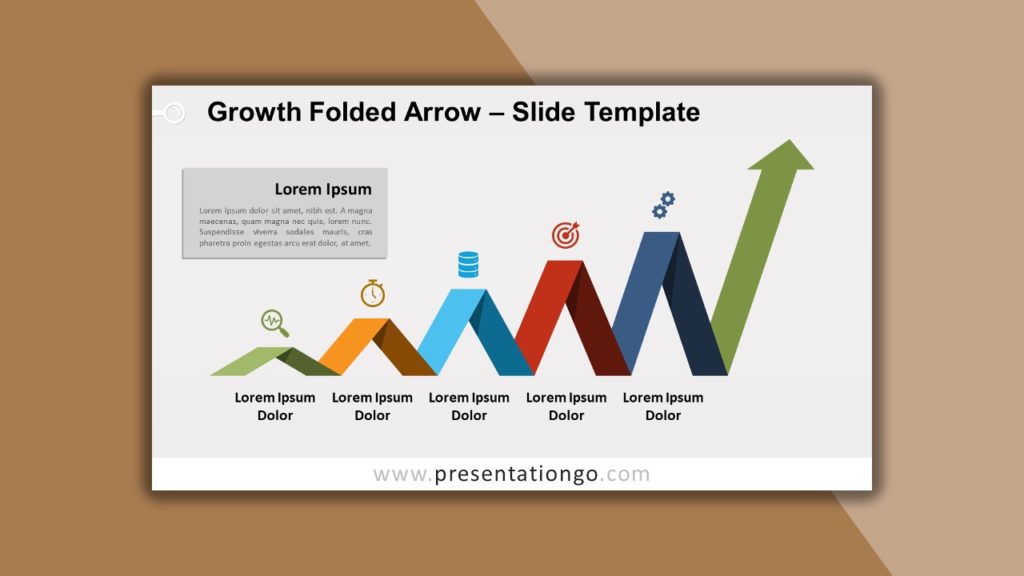 This 3D arrow has the shape of little mountain peaks that grow higher and higher. That's why it is ideal to illustrate a growing process or progression in 5 steps. The 5 folded parts each have a different color and you can also include an icon on top of each summit to represent your stage. Besides, you have the possibility to insert a title beneath the graphic and a little text and title in the top left corner of the page. This free template is ideal to put emphasis on movement and growth, yet you can also use it as a timeline.
4. Arrow Process and Target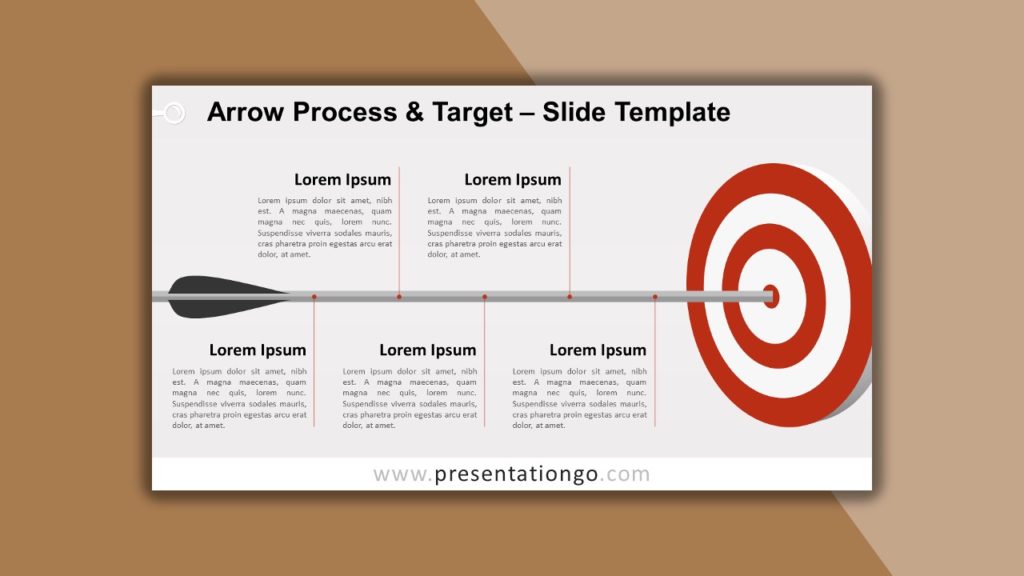 Bull's eye! Do you want to hit your target and describe the steps to follow to reach your goal? This free 3D Arrow and Process Target infographic is the perfect metaphor to do it. Indeed, it features an arrow that hits the center of the target. Along the arrow, you have five lines with markers that are linked to a text placeholder. You can therefore describe 5 steps in a progression, process, or workflow. Of course, it is also suitable to illustrate a list of events in chronological order.
5. Doodle Alternating Process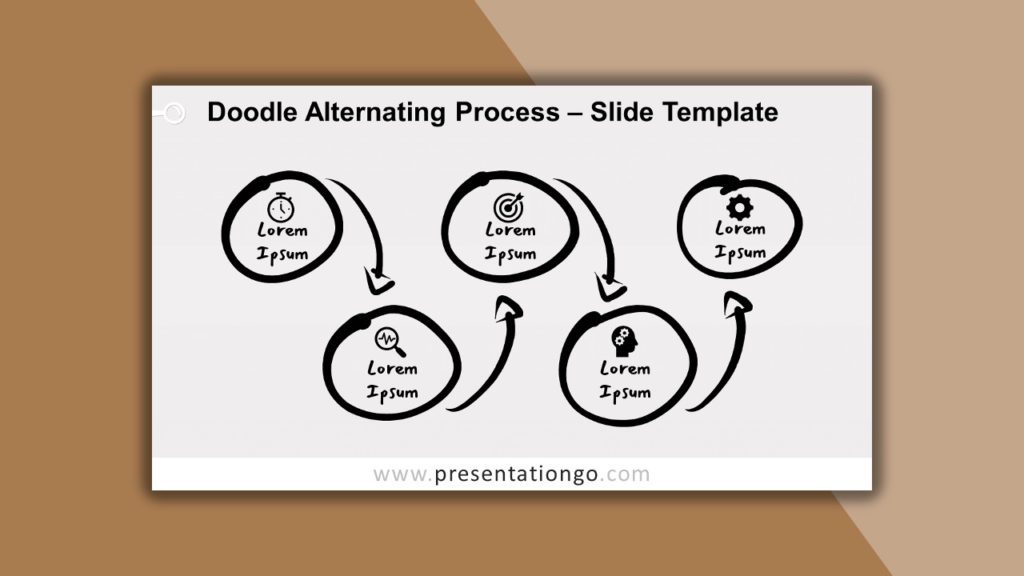 Let's make your visual aids more personal! This free Doodle Alternating Process template for PowerPoint and Google Slides is the perfect tool to bring some fun and energy into your presentation! Indeed, it represents hand-drawn circles and arrows set in an oscillating flow. It includes 5 steps for you to describe your process and clearly show the connections and conversions of it. In addition, you can insert text, icons, and numbers inside the circles. No doubt you will draw everybody's attention!
6. Multi-Layer Circular Diagram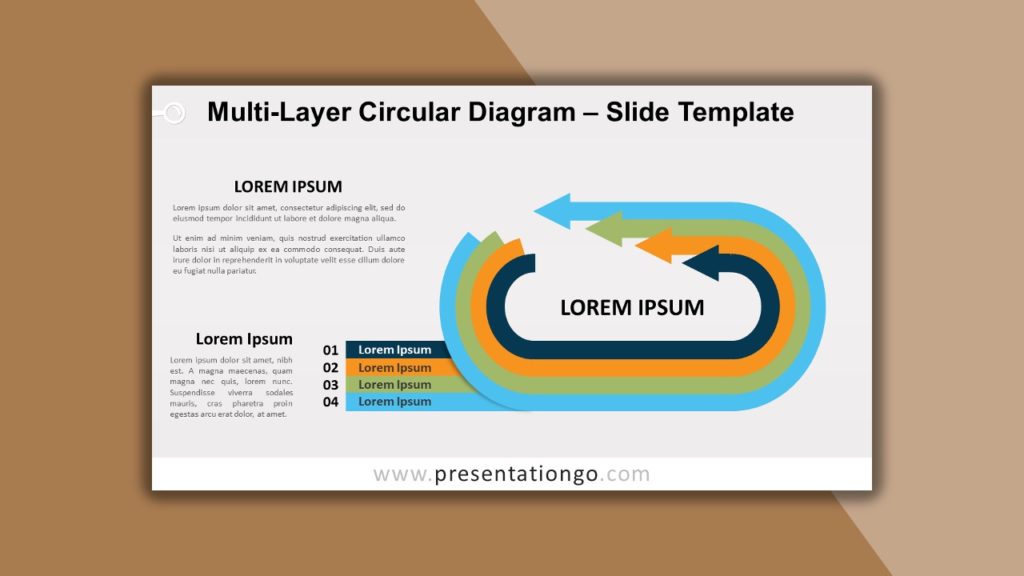 Everybody will get to the finish line but not at the same time! This infographic shows an original running track where each one of the 4 lanes is represented by a different colored arrow. The lanes illustrate ideas or concepts that are connected through hierarchical relationships around a central idea. This free Multi-layer Circular diagram will come in handy if you want to emphasize a general idea in the center diagram and how the information in the outer shapes contributes to this main idea in a cyclical progression.
7. Serpentine Process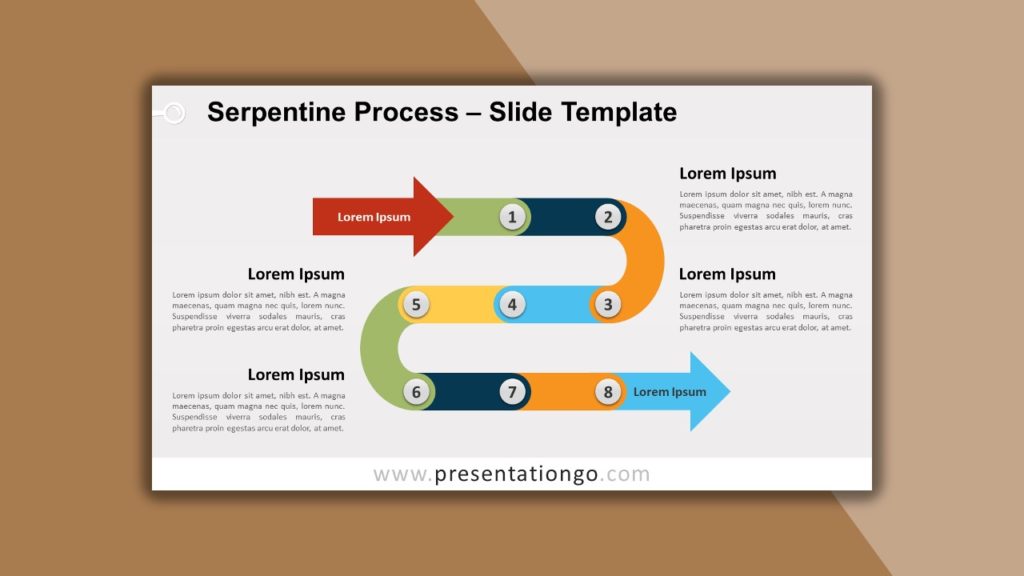 Time is not always a straight line, and neither are your projects! They can sometimes have twists and turns, just like this free Serpentine Process diagram shows. It represents indeed a winding snake-shaped line starting and ending with right arrows. It also includes 8 different colored and numbered parts to illustrate 8 sequential steps in a task, process, or workflow. In addition, this diagram can obviously be used as a timeline.
8. Brainstorming and Ideas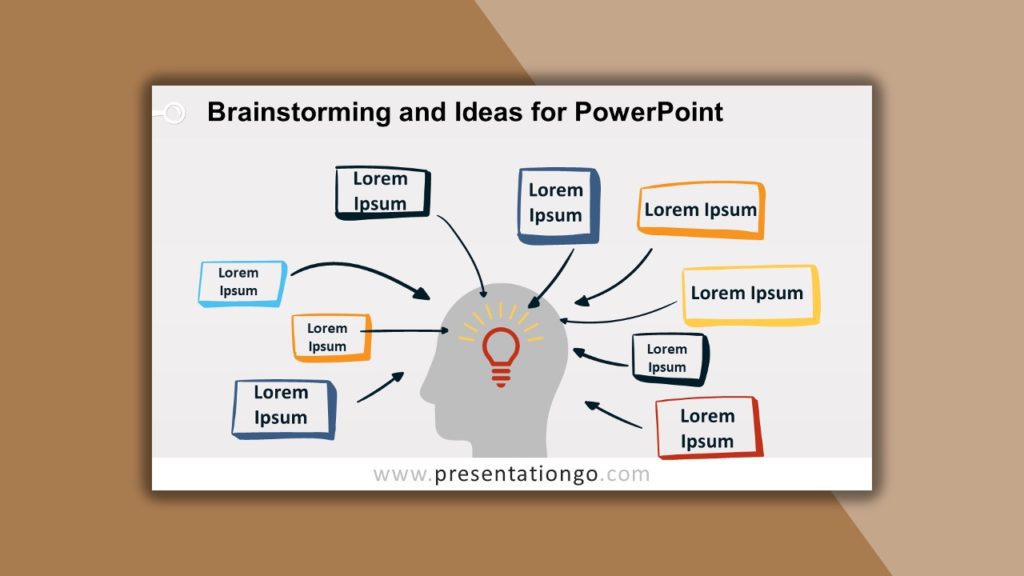 The great ideas are just here, floating in the air! Your brain just has to catch them. This free slide template illustrates a man's head with a light bulb in place of the brain. Around it is a cloud of words with colorful hand-drawn borders and arrows. All these are connected to the man's head with arrows pointing at the brain. You can use this infographic as a tag cloud, as a metaphor for brainstorming or to make a list of concepts. Show all the brilliant ideas that come to your head!
9. Step-Up Folded Process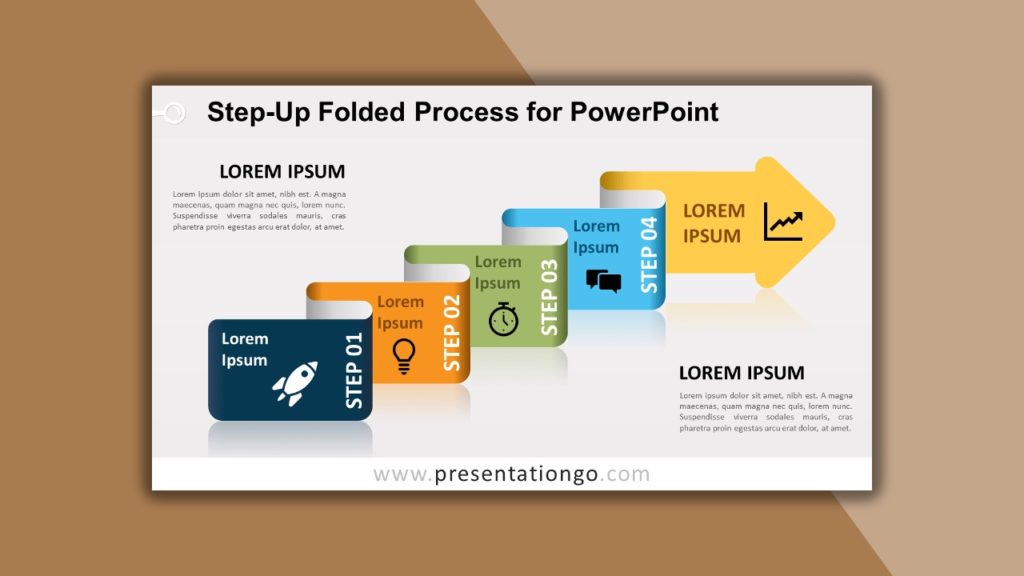 This template has one of the clearest and most elegant designs you will find to illustrate an ascending or step-up process. It represents a long arrow made of a folded banner that allows you to show a progression or four (4) or five (5) ascending steps in a task, process, or workflow. Each stage can be described with a number, an icon, and a title. Furthermore, they all have their own color. It also works perfectly as a timeline.
10. Three Arrows Infographic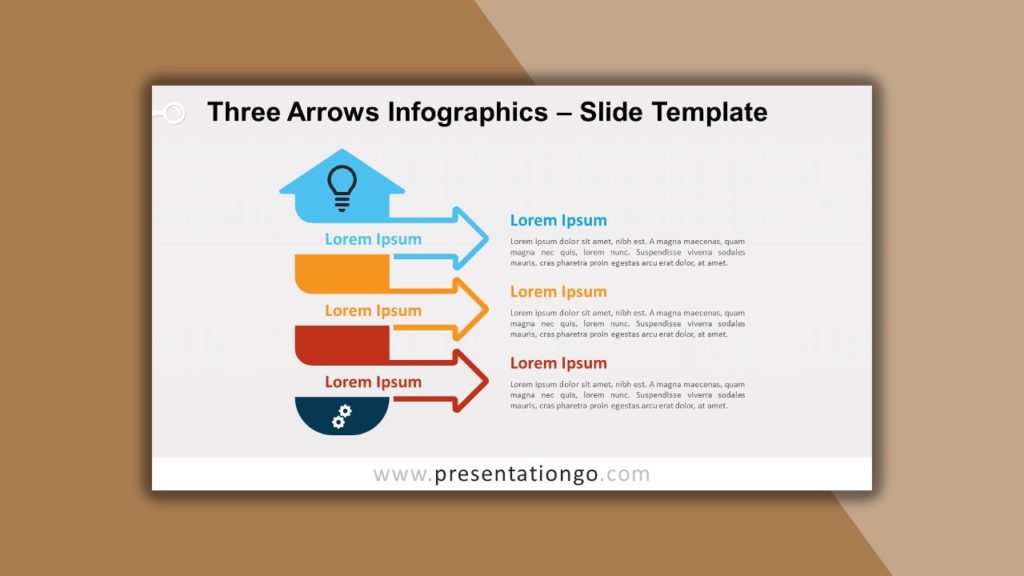 When three arrows meet a fourth one, you get this original infographic! The main arrow is a vertical one that represents progression or growth. The other three are horizontal and point to the right part of the slide, where you can include text and titles. Each arrow has a different bright color and is inserted into the vertical one. They can thus represent 3 concepts or 3 steps in an upward process.
We hope you like our selection of the 10 Sharp Slides with Arrows for Presentations.