Having trouble finding the perfect blue template for your PowerPoint and Google Slides presentations? While you are browsing the web, you sometimes feel that it only happens once in a blue moon. Luckily, we have designed an amazing selection of 10 blue presentation templates that will fill everyone's needs and ravish your audience.
There are many great reasons to choose blue as the main color of your visual aids. To begin with, blue is the world's favorite color. Indeed, around 40 % of people choose it in the first place, far ahead of red and green. Besides, blue offers a wide range of shades that can suggest many different feelings and emotions. The most important ones are calmness and serenity, as well as security and reliability. Sky blue is calming but Navy blue is intense. Dark tones of blue convey elegance and intelligence whereas light hues of the same color transmit honesty and trustworthiness.
Our selection includes varied and surprising designs. You will find abstract and figurative ones, all with a powerful impact on viewers. Some of them are multipurpose while others are much more specialized. For instance, we offer presentation templates on the topics of medicine, web design, plumbing, and tourism. Take your pick and be sure your audience will become true-blue fans of your ideas!
1. Triangles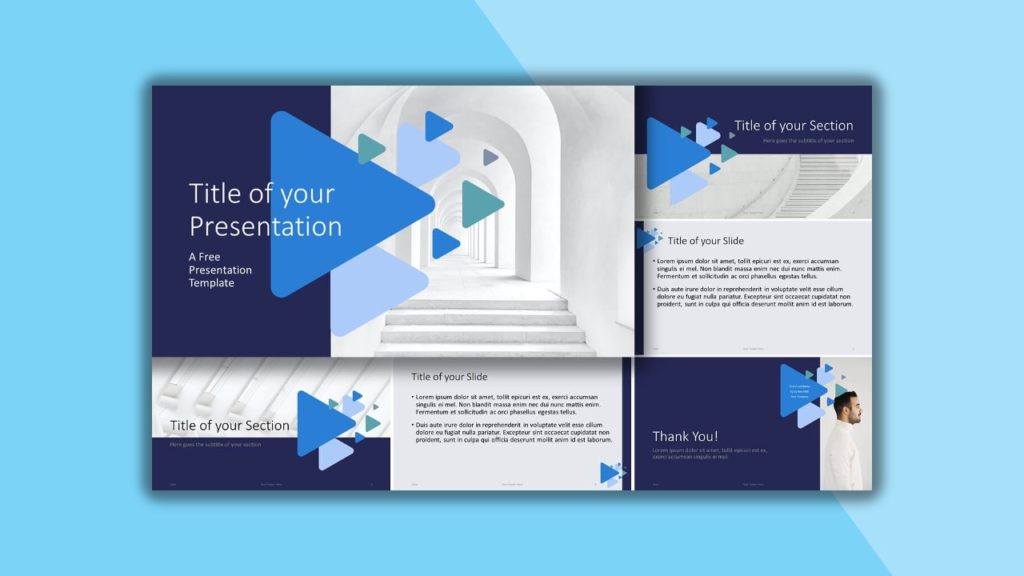 Progress, modernity, and reliability are the impressions you will communicate to your audience with this dynamic yet elegant Triangles PowerPoint template. Also available as a Google Slides theme, it offers you a selection of 7 entirely editable slides. You can indeed insert the photos you like in the title and section title slides. All the triangles have different shades of blue and point towards the right, thus evoking a flock of birds flying up, towards the future.
2. Crescents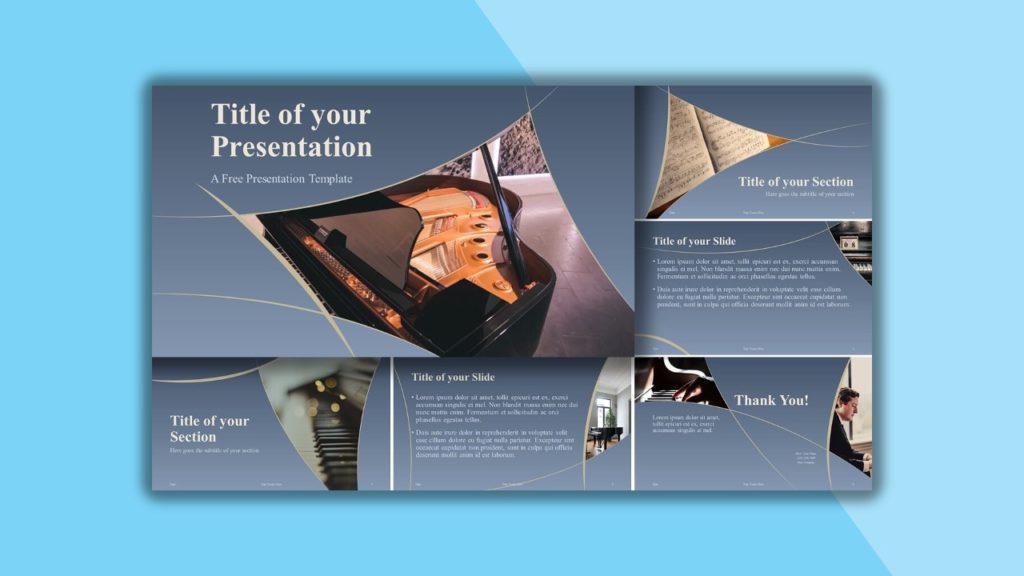 Our free Crescents PPTX/POTX template is the one you need if you want to convey both elegance and dynamism to your audience. In fact, the geometric curved lines with concave and convex edges generate amazing movement into the design. The shapes created also allow you to insert the pictures you wish in order to personalize your visual aids. The blue-gray background is the one that will inspire grace and class to your presentation. So don't hesitate to illustrate your ideas with style!
3. Golden Ring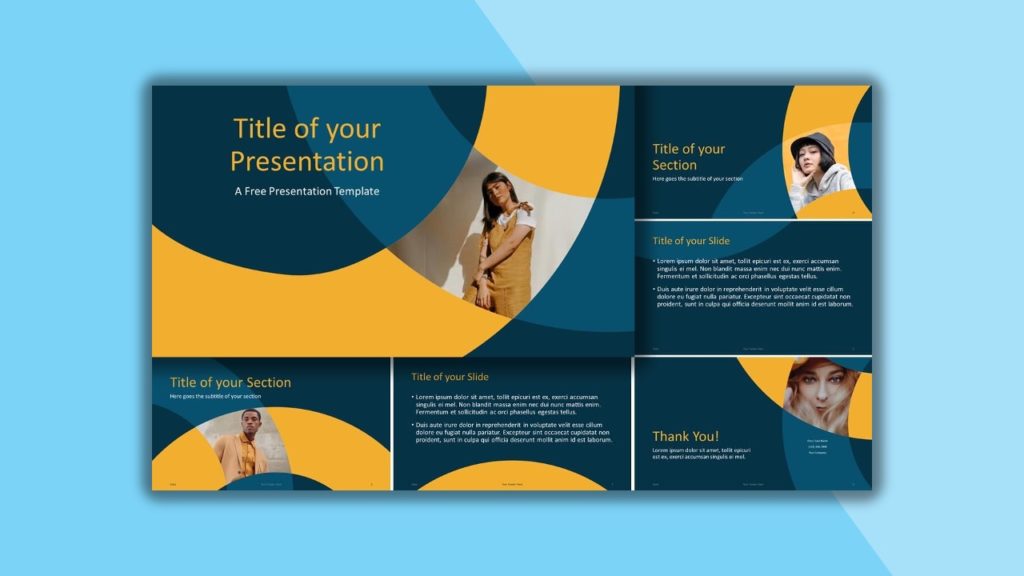 Two intense colors were combined to create this free Golden Ring PowerPoint template: blue and yellow. More precisely, deep blue and golden, two shades are known to transmit class and luxury. This Google Slides theme also has a dynamic layout thanks to the interlacing of golden and blue circles. In addition, you can use the space where rings cross each other to place your images and pictures. This presentation template can be used for any topic but it is ideal for design, marketing, the luxury and jewelry business. Enjoy this golden opportunity!
4. Neo Geometric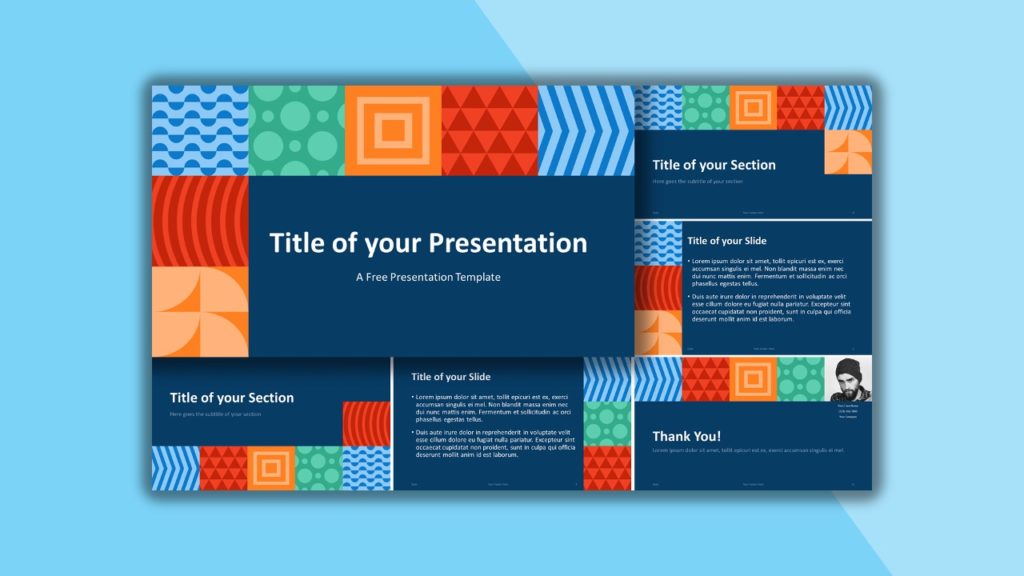 The deep blue background of this free Neo Geometric Google Slides theme is perfect to highlight your titles and texts with white font. What is really original about this template is the frame composed of colorful squares with abstract designs. Indeed, all 6 slides show a patchwork of various geometric patterns with circles, triangles, tetragons, pointy and curvy lines. Thanks to its non-figurative design, this template can therefore be used for any personal, artistic, educational, or professional presentation.
5. Liquid Marbling Paint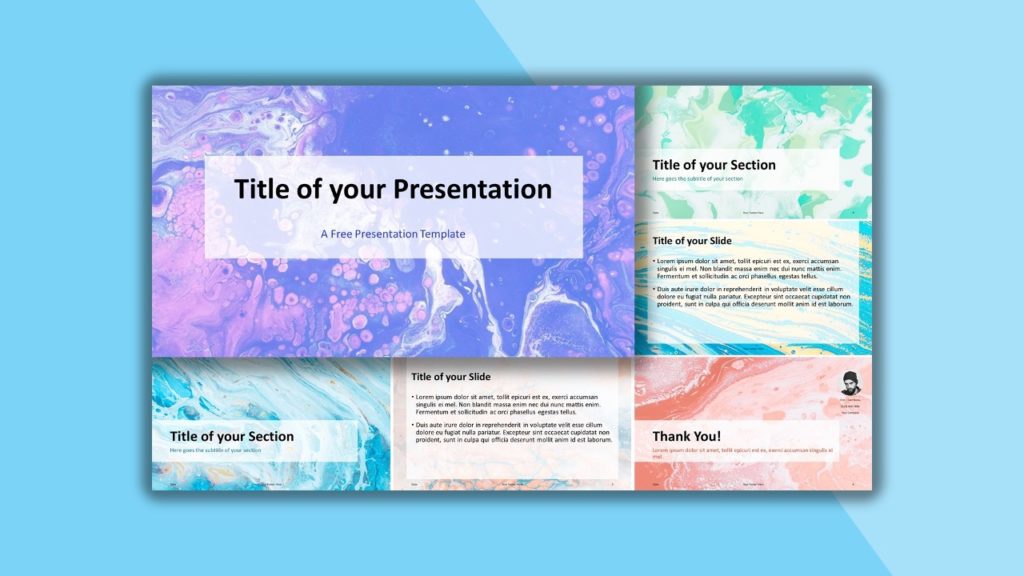 Do you want to stimulate your audience's imagination? Do you need to make them feel secure, curious, and mesmerized at the same time? Try this free liquid marbling paint PowerPoint template! It is modern and trendy as well as soothing since it displays soothing pastel colors such as purplish-blue, turquoise, salmon, light green, and red. Moreover, the effect created by fluid paint and airbrush makes it ideal for presentations related to geology, the environment or planet-related subjects, psychology or meditation.
6. Beach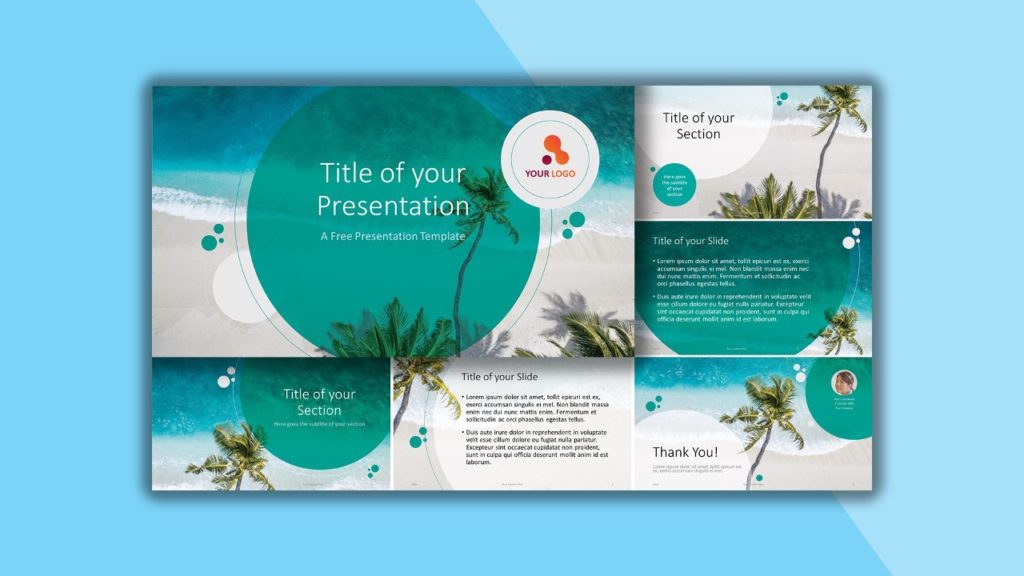 If there is a place on Earth that evokes relaxation, peacefulness, and positive feelings, it is definitely the beach. Thanks to the photos of a quiet ocean, palm trees, and white sand, this free template constitutes a soothing and refreshing theme that your audience will love. Ideal for hotels, travel, tourism, or leisure companies, it will also be perfect for beauty salons and spas. Besides, the circular shapes in green and white will emphasize the calming power of the 6 slides and allow you to highlight your titles and texts.
7. Blue Web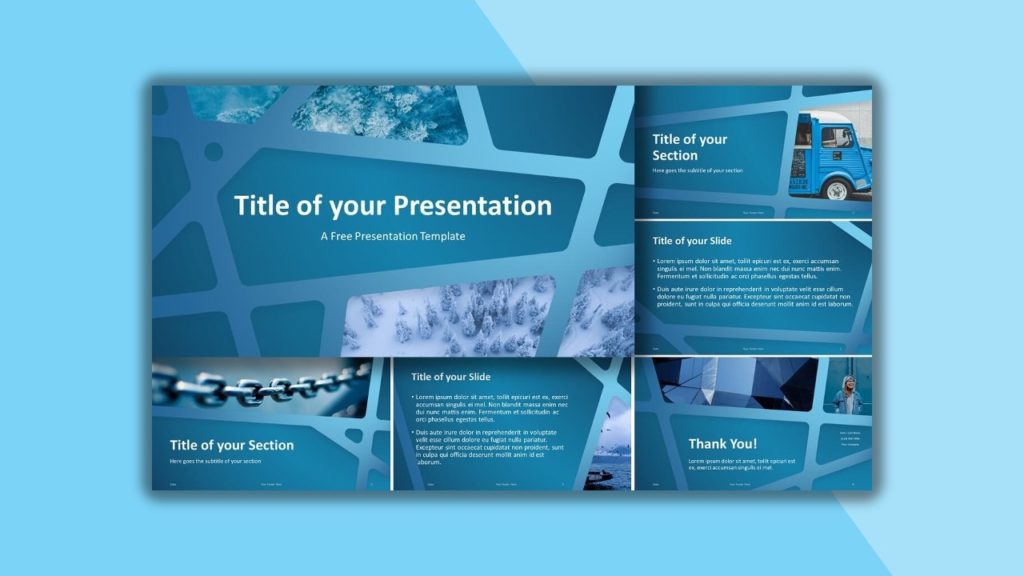 When we talk about refreshing colors, ice blue is surely one of the best options. This particular shade of blue is both pleasant to the eye and energizing to the mind. The network interwoven lines that form the pattern of the 6 slides will portray the energy and movement of your ideas. Besides, their intercrossing creates original picture placeholders to showcase your best images. Enjoy this free Blue Web presentation template for topics linked to networks, science, technology, and many others.
8. Medical Research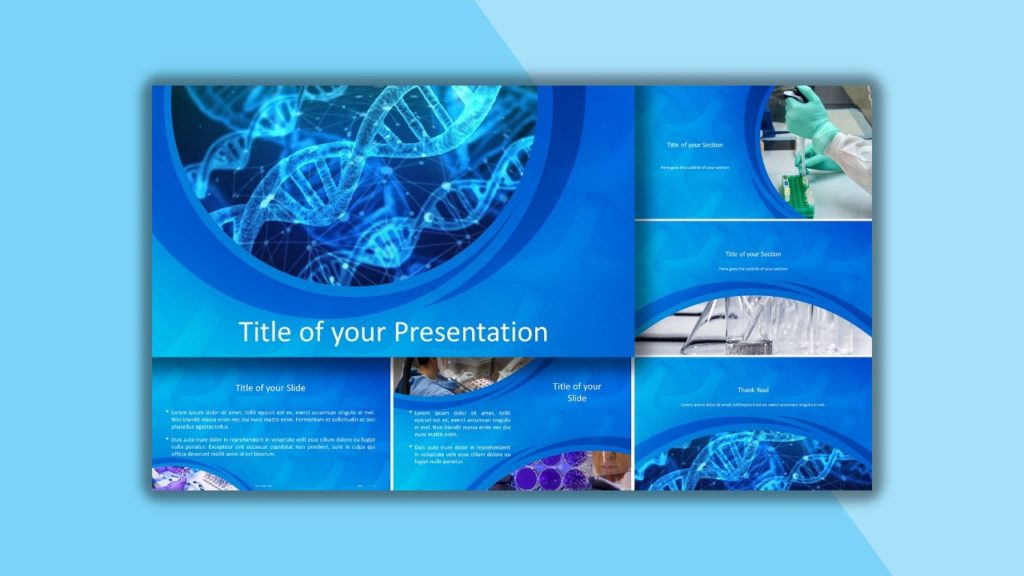 What makes this PowerPoint template especially fit for medicine-related topics? First of all, its intense blue color. It offers indeed a wide palette of this color that evokes cleanliness and pureness. Thanks to its abstract and dynamic patterns, such as circles and interwoven triangles, you can adapt it to any field, including healthcare, medical science, and research. You just have to edit the photos that you can include in the picture placeholders on every single one of the 8 slides.
9. Abstract Origami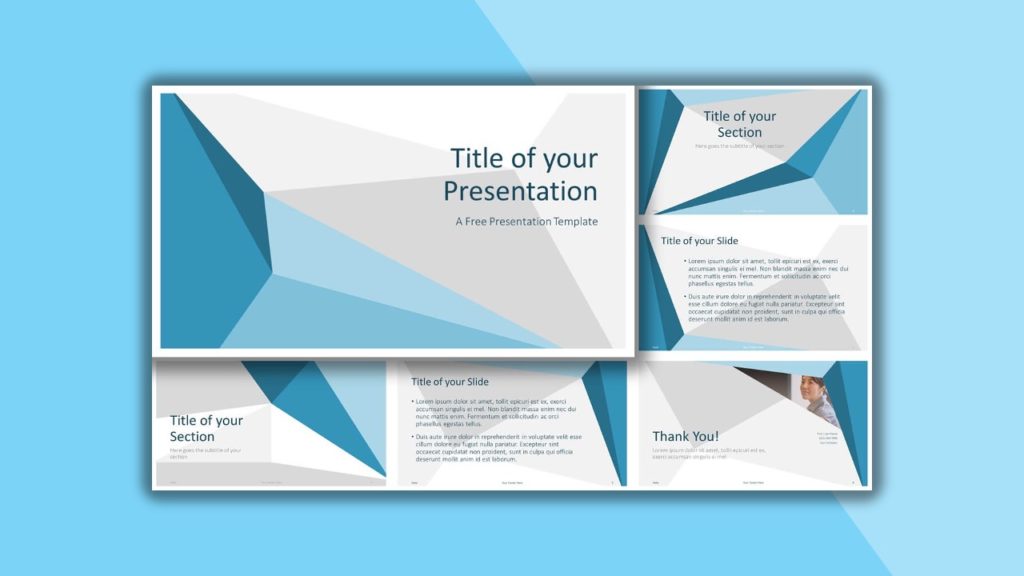 Triangles and quadrangles coexist in the 6 slides of this free abstract Origami Google Slides theme and PowerPoint template. It is totally abstract so you can adapt it to absolutely any kind of topic. Moreover, the different shades of gray and blue create a fancy and modern 3D effect that will give depth to your text and titles. It is also fresh and fun and conveys the ideas of precision, geometry, and creativity. Be an origami artist and surprise your audience with this amazing template!
10. Plumber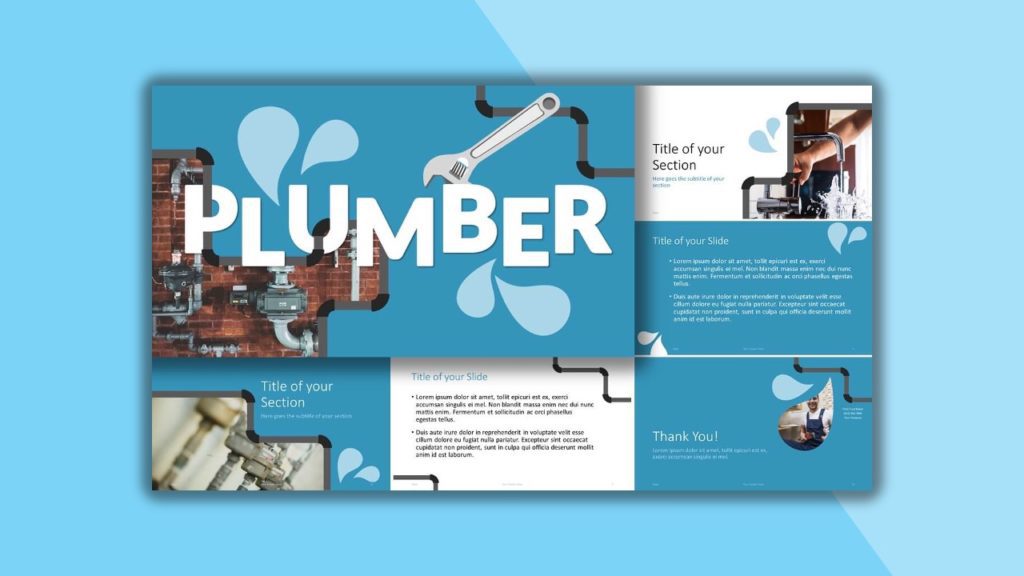 How long have you been looking for the perfect template to present ideas and topics linked to plumbing? It's time to adopt this free Plumber PPTX/POTX template and give clear explanations on the topics of drainage, sewage, bathroom, kitchen, or general plumbing. Its design is fun and modern with plenty of spaces for pictures and blue background, of course! Whether you want to advertise your company, present your new products or give a technical lecture on plumbing topics, these 6 slides will be your best assistants.
We hope you like our selection of the 10 Wonderful Blue Templates for your Presentations.