Not every process looks like a straight line. Every plan has its ups and downs. Every procedure can go left then right or even back and forth. Alternating processes are indeed much more common than we think. How are you going to present yours in your next presentation? You don't have to waver anymore. We have prepared for you a great selection of 10 free templates to illustrate your alternating processes.
You can choose to represent your process in many different ways: vertically or horizontally, with a straight, curved, or circular line, with arrows or connecting elements between each step, etc. Alternating process infographics are great visual options, even for the most linear of your processes. Indeed, you can present your information in a more dynamic manner. Besides, some of these graphics are visual metaphors or analogies that can embody the exact idea you want to convey to your audience. In our selection, you will find templates with traffic cones, rockets, gears, a pot plant, and even a bomb!
Alternate process diagrams are used to show groups of information or sequential steps in a task, process, or workflow. They emphasize the interaction or relationships among the groups of information. Don't lose the opportunity to marvel your audience with the perfect infographic. We leave you no alternative: all you need is right here below!
1. Alternating Pot Plant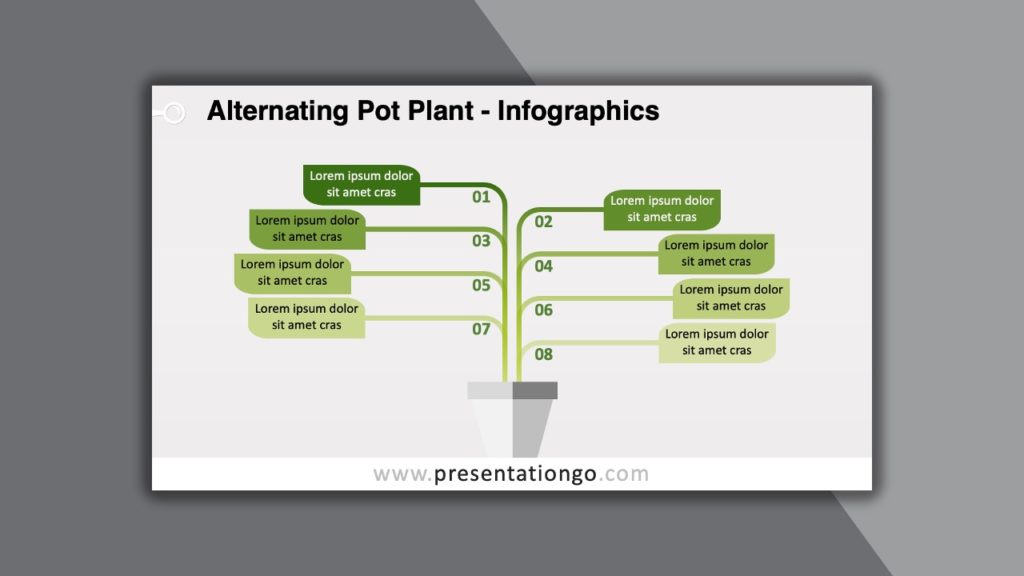 Let's start with this original and versatile pot plant diagram. You can indeed use the 8 leaves of this plant as text blocks to present your ideas or concepts. Since you can number each branch, you can also use it to describe an alternating process with 4 steps on each side, going up or down. It also works like a decision tree or a cause and effect diagram. Finally, this free chart is the perfect tool if your topic is related to nature, sustainability, or the environment.
2. 3D Gears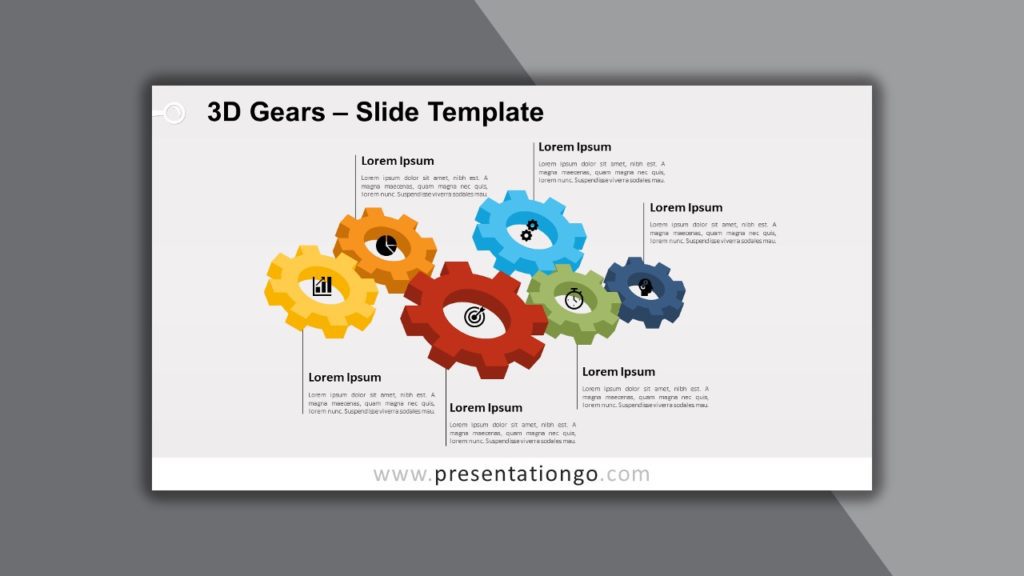 There is no better visual metaphor to illustrate interconnected ideas or stages than gears. Indeed, this free infographic displays these mechanisms that mesh together through teeth and transmit motion from one shaft to another. If movement and interlocking ideas are key notions in your process, don't look any further: this free colorful and dynamic infographic will do the work for you! Moreover, it has an attractive 3D effect that will amaze your audience. Swing into high gear and give a top-notch presentation!
3. Alternating Process with Curved Arrows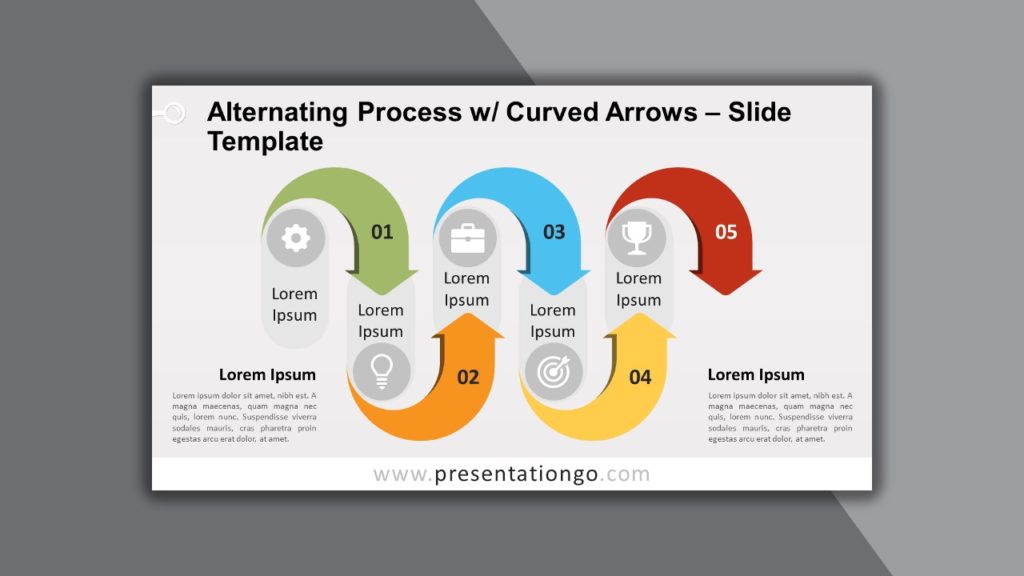 Stunning colorful curved arrows adorn this free template. By connecting one to the other, a serpentine shape appears, with an up and down movement. Each arrow can be numbered to specify each one of the 5 steps of your process. In addition, you will find gray vertical oval shapes between each arrow: this is where you can name your step and even place an icon to illustrate it. You can also use this horizontal alternating process diagram to illustrate a list of events in chronological order.
4. Alternating Timeline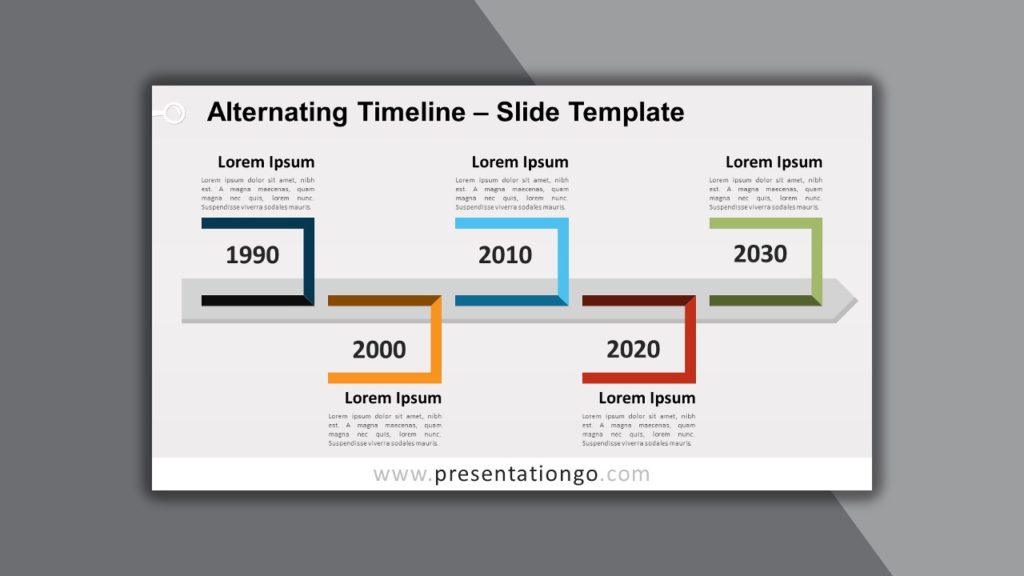 Looking for a clean yet elegant timeline to share your important dates with your audience? The advantage of alternate dates below and above the arrow-shaped timeline is that it increases its dynamism and legibility. Your 5 key dates will stand out inside the 3/4 frame shapes, each one with a different color. Above or below each one, you have text placeholders to write your titles and explanations. Of course, it can also be used to describe 5 sequential steps in a task, process, or workflow.
5. Bomb Process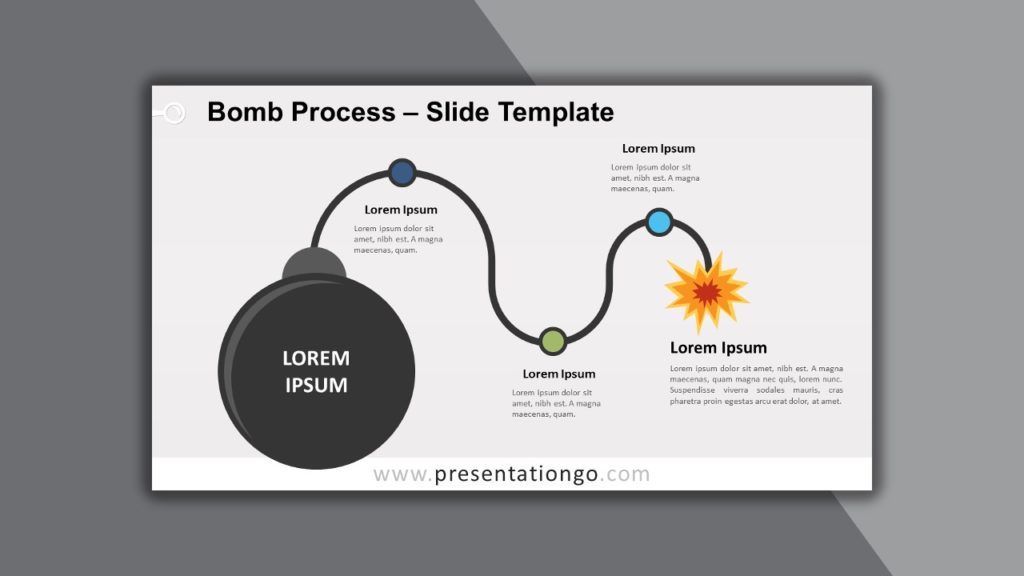 If you want to add a light or humorous tone to your presentation, why don't you display this free Bomb Process infographic? This cartoon-style round black bomb with a burning serpentine fuse can be used as a timeline or to represent the 3 steps of a process. Besides, you can reverse the flow from the fuse to the bomb if you wish. This diagram is ideal to describe an urgent or dangerous process. So take some risks and catch your audience's attention. This template is the bomb!
6. 5-Step Process with Rocket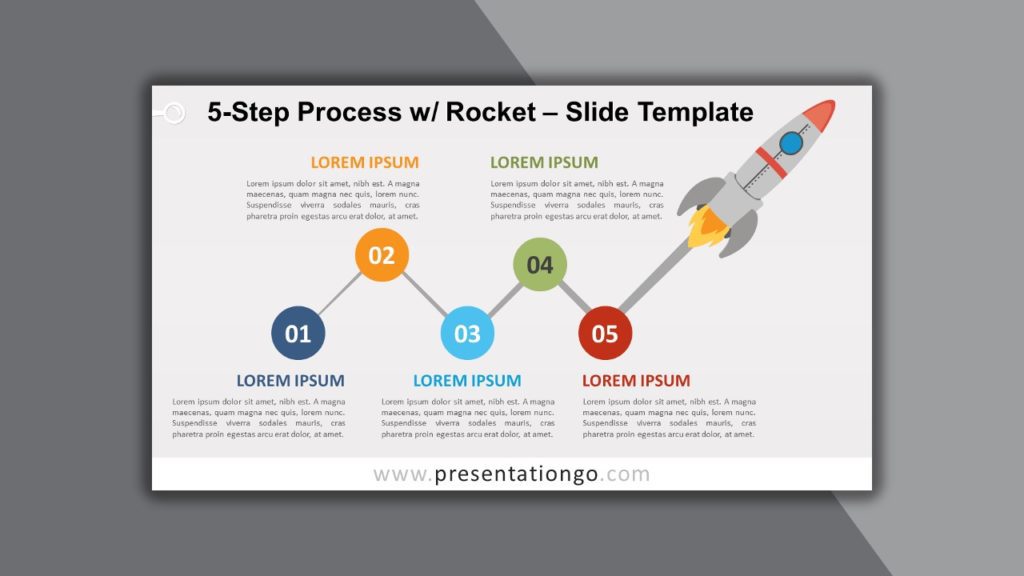 Are you aiming for the sky? Time to shoot for the moon with this free 5-Step Process with a Rocket template! If you set your goals high, this cartoon-style illustration of a space rocket with a smoke trail is ideal to describe your progression or the 5 sequential steps in a task, process, or workflow. The 5 stages are represented by colorful circles in which you can insert a number. You can also enjoy the large text placeholders to describe each step in detail.
7. Vertical Alternating Process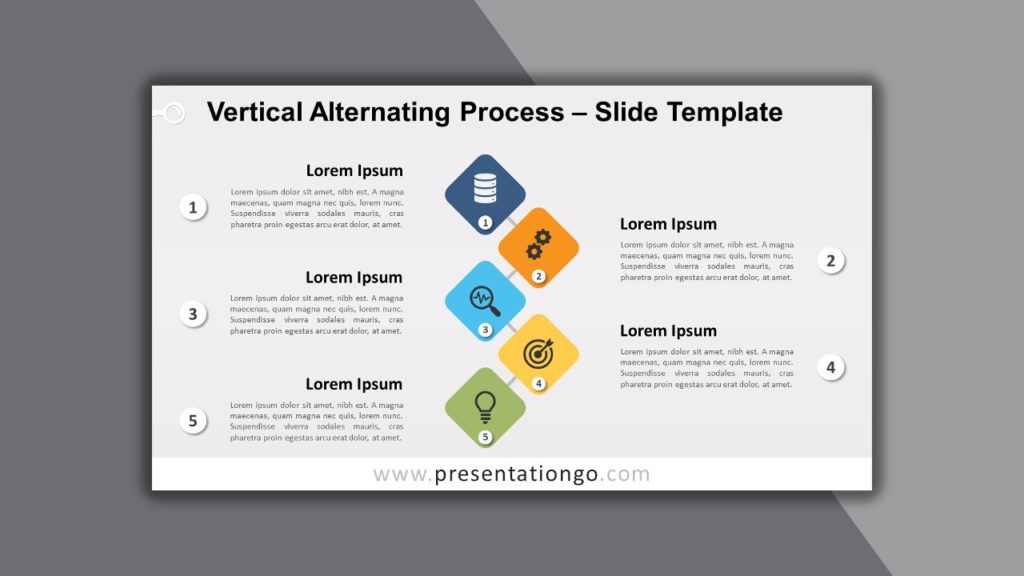 The most common representations of processes are generally horizontal, going from left to right. However, a vertical process has its advantages: it gives an ascending (or descending) impression to your audience. This one is made up of 5 connected rounded square diamonds, each one with a different color and enough space to insert an icon and a number. Furthermore, you can describe each step thanks to the text placeholders on each side.
8. Doodle Octagon Process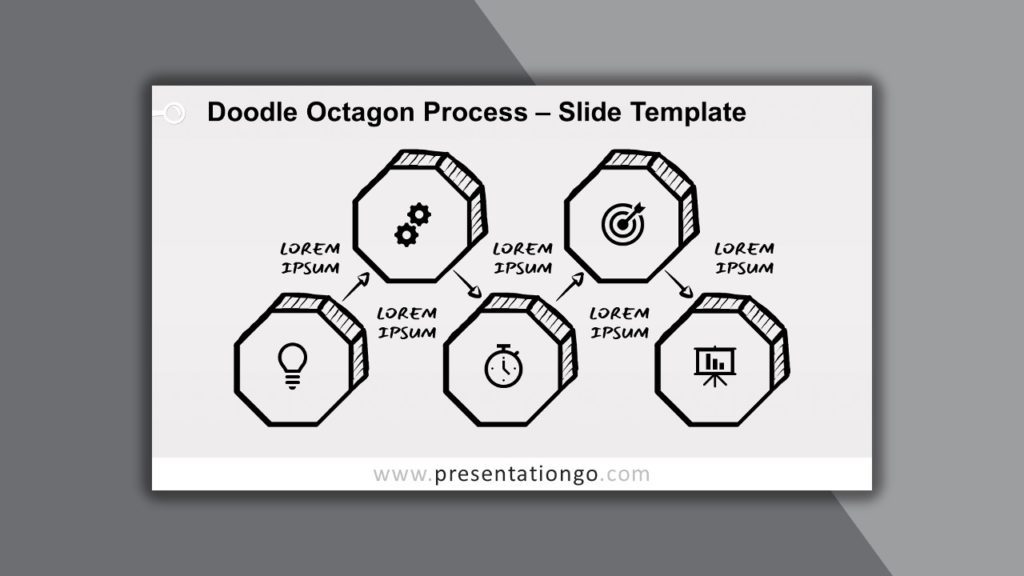 Why don't you give your presentation a fun hand-made touch? This free Doodle Octagon Process infographic is what you need if you want to showcase an original design for your progression or timeline. The octagons that represent your 5 stages can be left in black and white or filled with bright colors. You can also insert an icon in each one and add a title next to these geometrical shapes. This infographic is ideal to convey movement and direction.
9. Accordion Process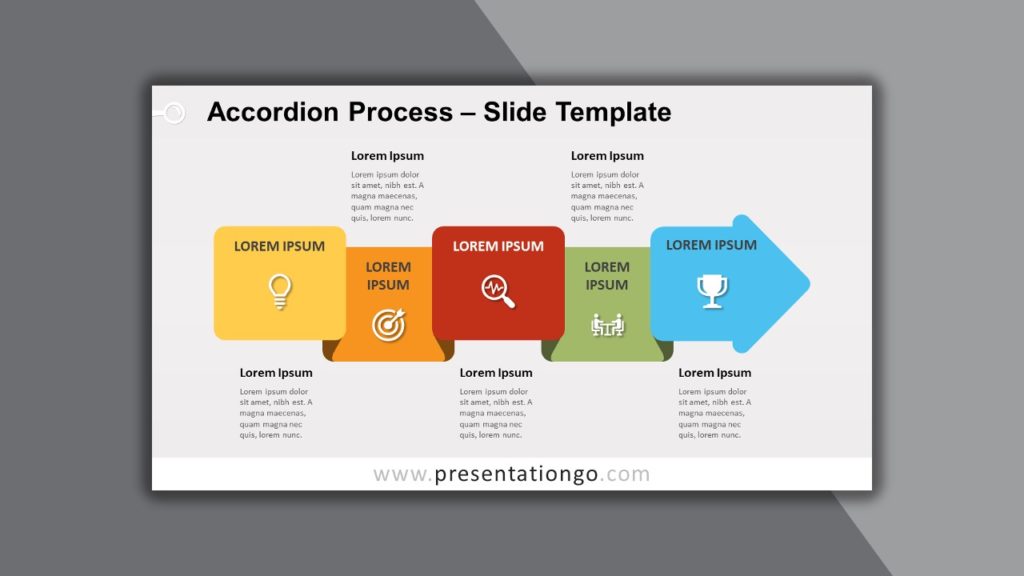 This free template showcases a wide arrow pointing to the right. This horizontal arrow is folded, creating an accordion effect, bending like the bellows of the musical instrument. The perspective of the 3 panels in the foreground and two others in the background shows an alternating flow that gives vitality to your visual aid. Use this Accordion Process template like a maestro and make a symphony of your presentation!
10. Traffic Cones Process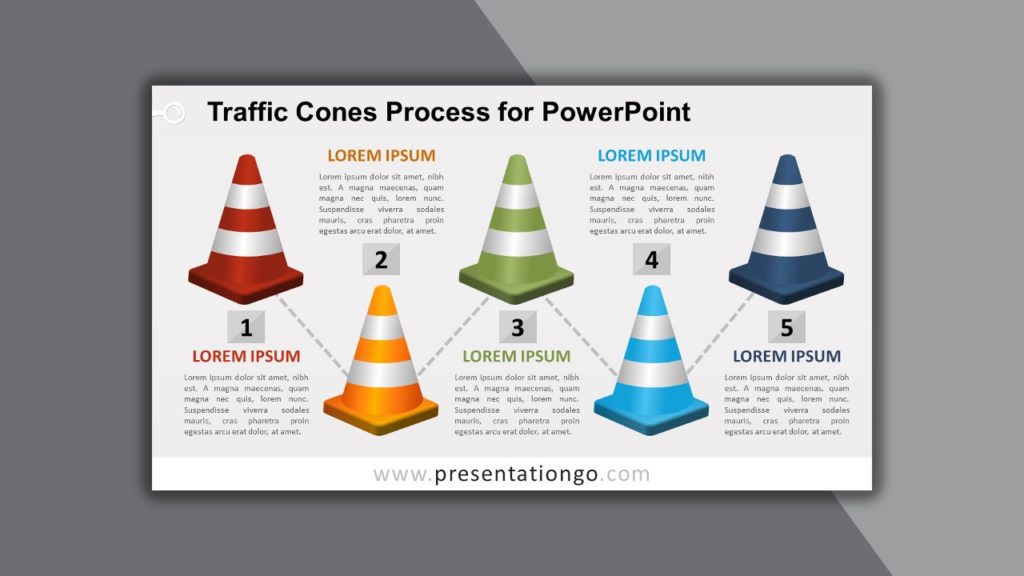 Pay attention! If you want to make each step of your process visible at first sight, the colorful traffic cones of this free template will show you the way. They are indeed horizontally aligned in an alternating flow and represent the 5 sequential steps of your task, process, or workflow. You can also see a zigzag long-dash line that connects all the traffic cones. Lead the way and show everyone the path to follow!
We hope you like our selection of the 10 Astonishing Alternating Process Templates for Presentations!