What would we do without maps? They are undoubtedly the best way to represent our physical world. The number of purposes for maps is almost infinite, and they are always a huge help for your audience to visualize and understand certain information, data or events. So put yourself on the map thanks to these 10 free creative maps for PowerPoint and Google Slides!
Maps are extremely useful to represent a great number of facts in a clear manner, and not only for historical and geographic phenomena. Let us give you some practical examples: you can pinpoint the different offices or outlets of a national or international company, you can locate specific markets, prospects and sales territories, you can also trace travel routes for people or merchandise, etc.
Since they are entirely editable, our maps are obviously ideal for history and geography presentations. Indeed, they include a precise tracing of borders, regions, states or provinces, that you can actually drag, color, outline and label. Thus, you can easily pinpoint any place in the country and show distances and travel routes.
We also offer you original world maps and some that represent full continents. Remember that maps simplify complicated information, therefore your audience will be grateful to you. As a bonus, we offer you slides with beautiful flags with a wave line pattern, for a large number of countries. Time to map your presentation out with these 10 free creative maps slide templates!
1. World Map with Continents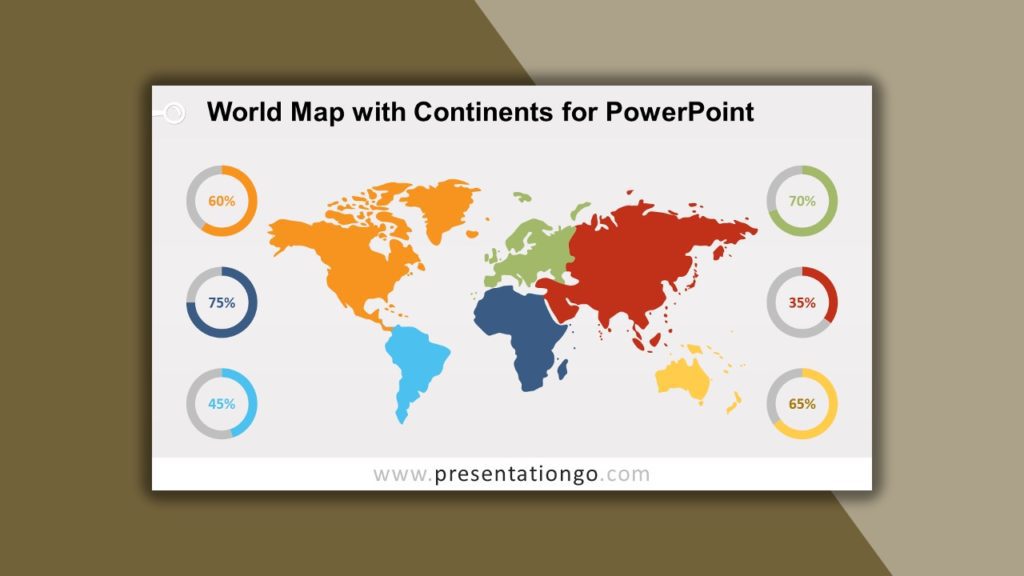 How many continents are there? 5, 6, 7 or even 8? Nobody seems to agree. Anyway, our map offers a clear highlighting of 6 continents with different colors: Asia, Europe, Oceania, Africa, North and South America. What makes this map extremely useful are the 6 doughnut charts to represent basic statistics. Each circular shape refers to a continent, easily recognizable thanks to their colors. You can therefore include numbers or percentages or any infographic information. Welcome to a brave new world of amazing maps!
2. Dotted World Map with Pins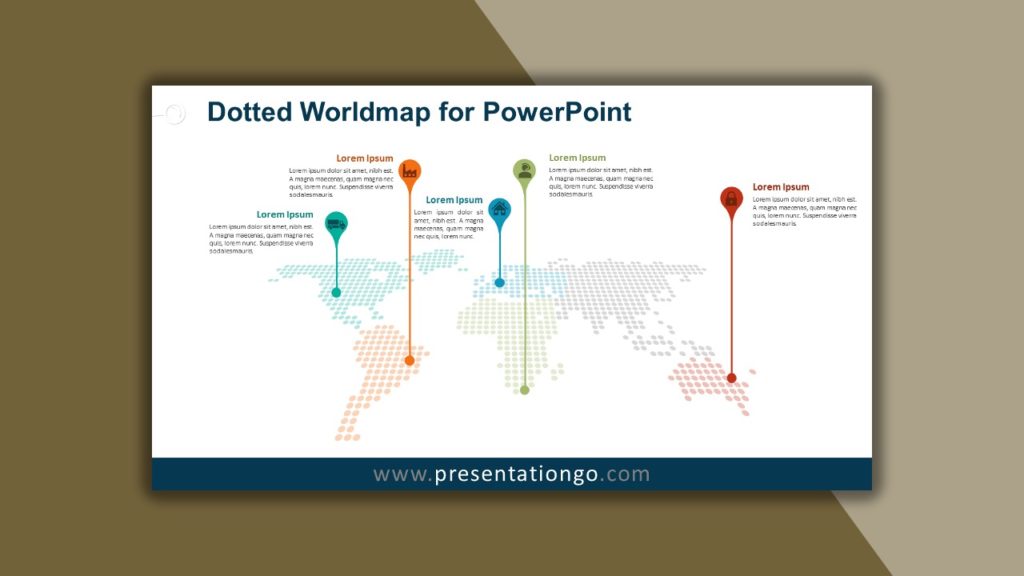 This dotted world map will have an outstanding impact on your audience thanks to its modern and styled design. Moreover, the oblique perspective gives a dynamic impression. Each continent is represented by dots of different colors. You can use it for a great number of purposes. It is specifically ideal to locate specific places (cities, factories or offices, for example) thanks to elegant pins in which you can include an icon. These are linked to a text placeholder at the top of the page for you to describe each place in more detail.
3. 3D Perspective Dotted World Map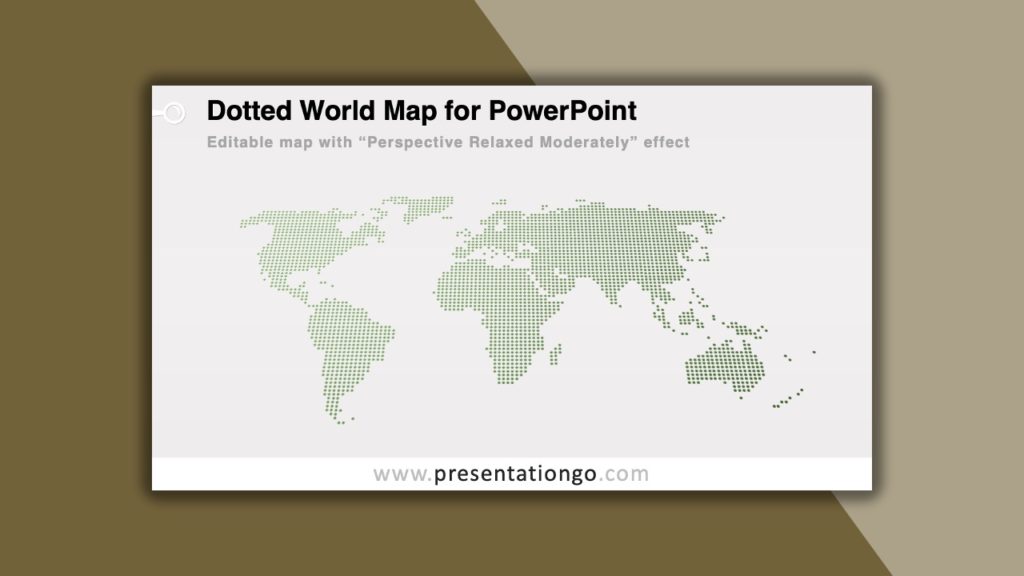 This other version of a dotted world map offers a more basic version, which makes it even easier for you to edit it according to your specific needs. It offers the whole word with green dots on a light gray or black background. Every single dot is editable, so you can change size and color for you to pinpoint the place you want. Besides, it has a 3D "Perspective Relaxed Moderately" effect, that makes the map easy to read. You will do a world of good to your audience thanks to this free Dotted World Map!
4. World Map Offices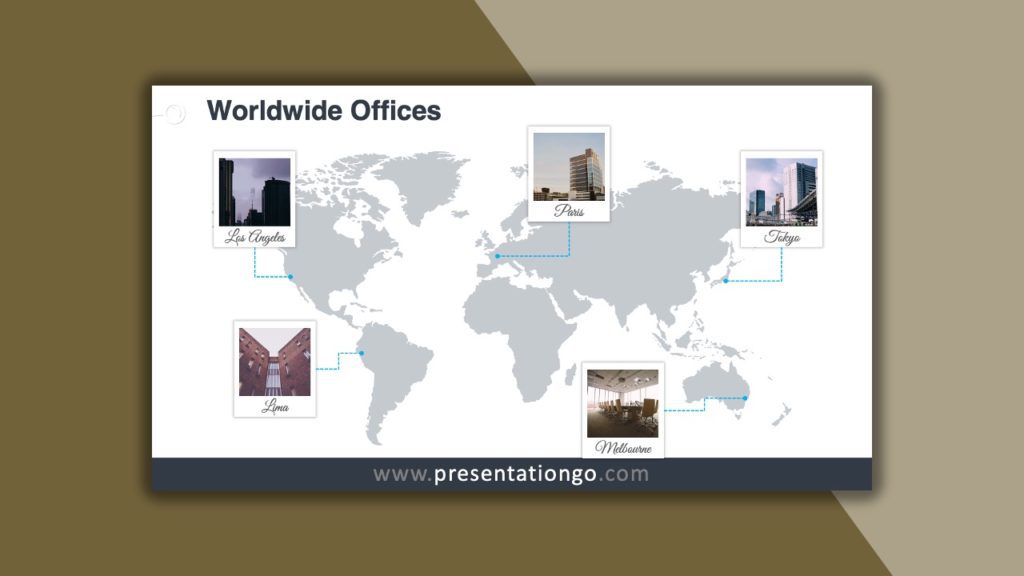 Do you need to include photos to illustrate specific places around the world? This slide offers you an original way to do it with Polaroid frames to include your pictures and a short text, the name of the place for instance, in the lower white part of the frame. This PPTX template allows you to indicate your global presence in a fashionable way. You can locate and pinpoint your offices and branches, but also your providers, clients, specific markets, etc.
5. Europe Map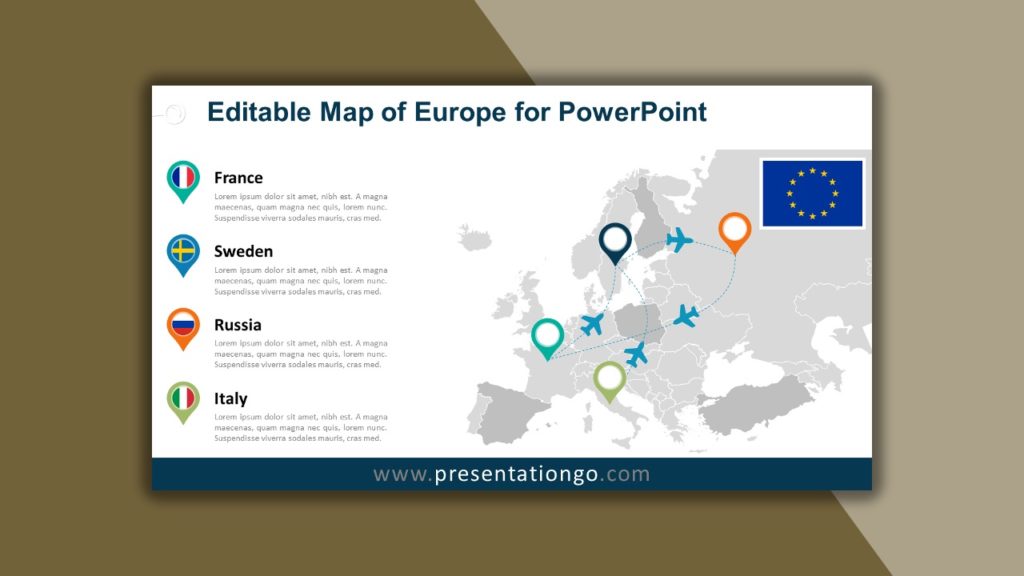 There goes your complete, precise and multi-purpose map of Europe! Countries are indeed easy to spot thanks to clear borders and different shades of grey to distinguish them. You can also separate and move each country, make it bigger or smaller, color or outline it. You can thus create an easy-to-read map. In addition, you can place colored pins, in which you can insert an icon or a flag, and link them with text placeholders on the left side of the page.
6. Map of Africa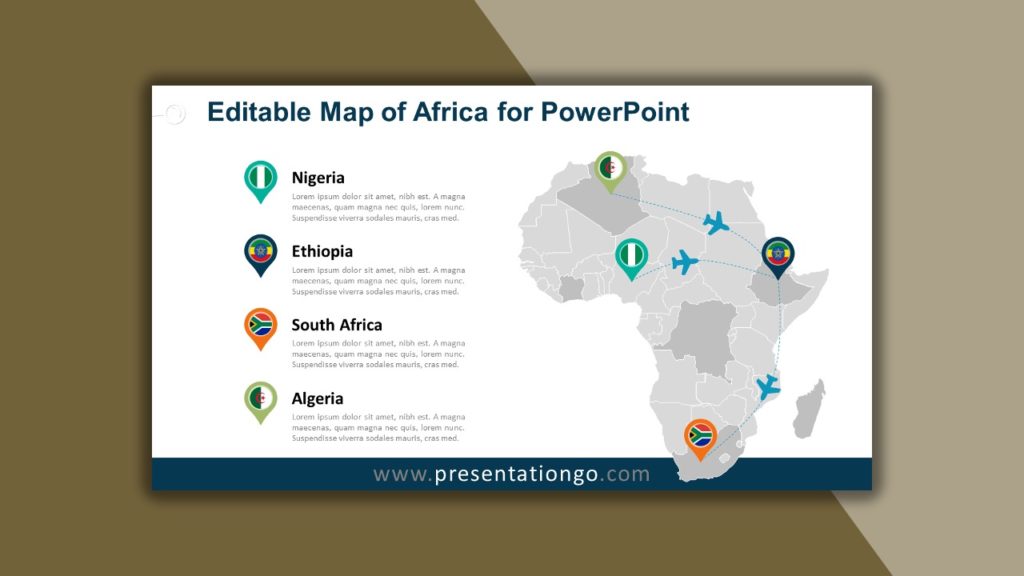 You will find the same amazing features in this free map of Africa as in the European one. You can display your map over a classic white background or an elegant blue one. It represents all 48 mainland countries plus Madagascar. Besides, each individual African country is an independent shape that you can easily edit as you wish. It includes pins to locate some specific places and interrupted lines to show paths and travel routes.
7. Map of India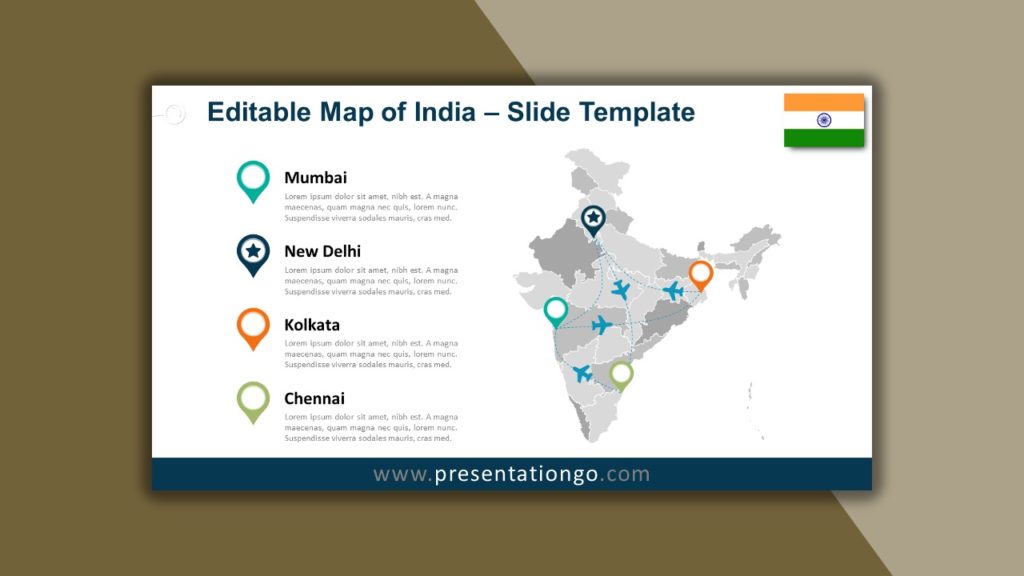 Never forget to include maps in your presentations! They are extremely useful when it comes to representing specific phenomena. The precision and thoroughness of our country maps will make it easy to illustrate a great number of phenomena, such as locations, statistics, databases, business and sales numbers. This map of India represents the states and union territories of India. Don't forget to browse our database: you will find maps of another 23 countries, and counting!
8. USA Map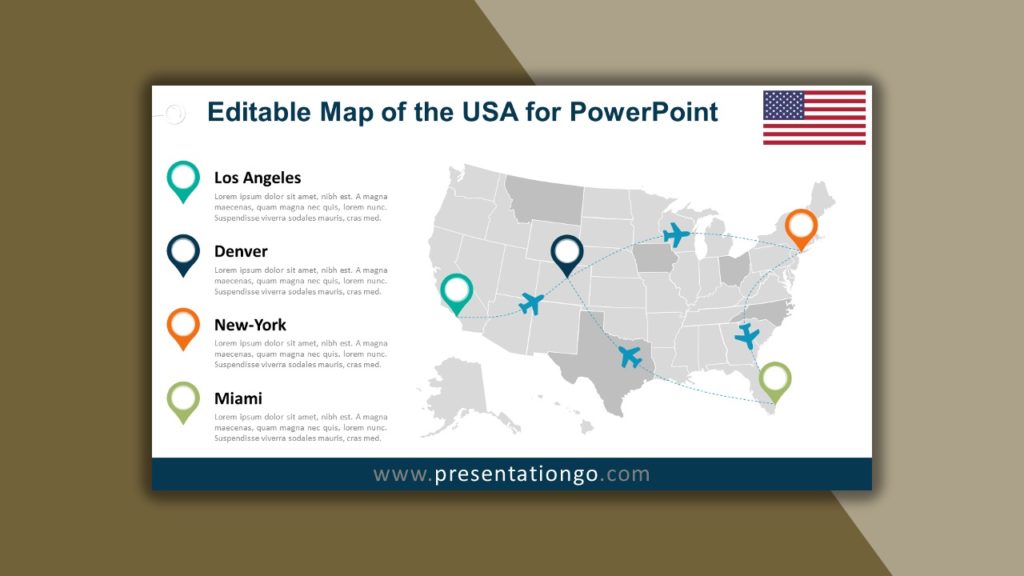 This free editable map of the USA for PowerPoint can be the highlight of your presentation. It is amazing how easily and quickly you can edit it and adapt it to your particular needs. Ideal for students and teachers for their geography and history lessons, it can also be useful for businessmen to show outlets, warehouses or offices, travel and merchandise routes, market prospects, etc. Moreover, you can enjoy the text placeholders to describe your ideas and data.
9. Hex Tile Grid Map of the USA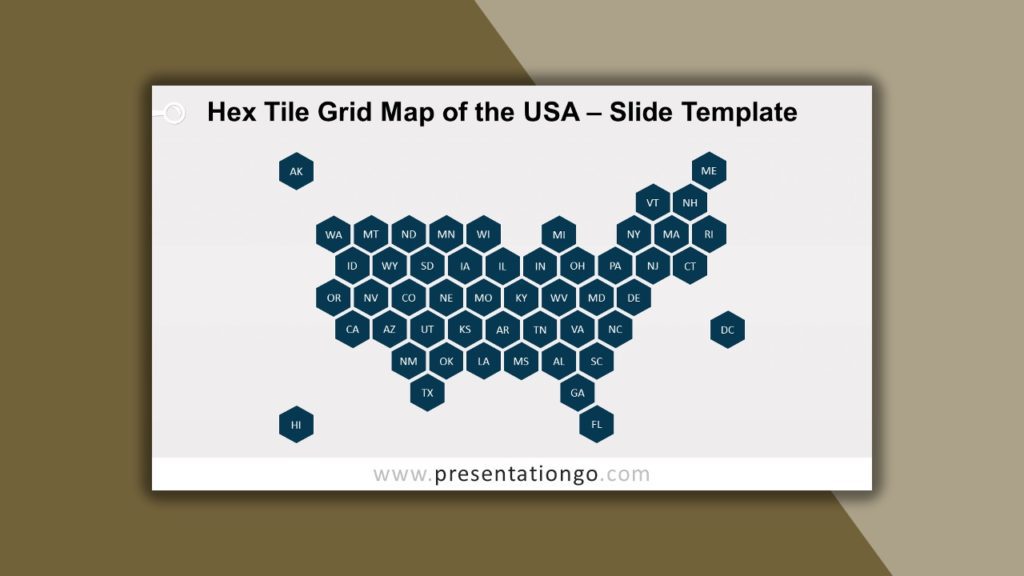 Do you need a more abstract map of the USA? This free Hexagon Tile Grid Map is ideal to show and compare data linked to each state. All states are represented by a hexagon of equal size and include the corresponding two-letter abbreviation name, which simplifies the visualization of data. You can also change the color and include numeric information. This American honeycomb will marvel your audience and make your job easier.
10. Extra: Country flags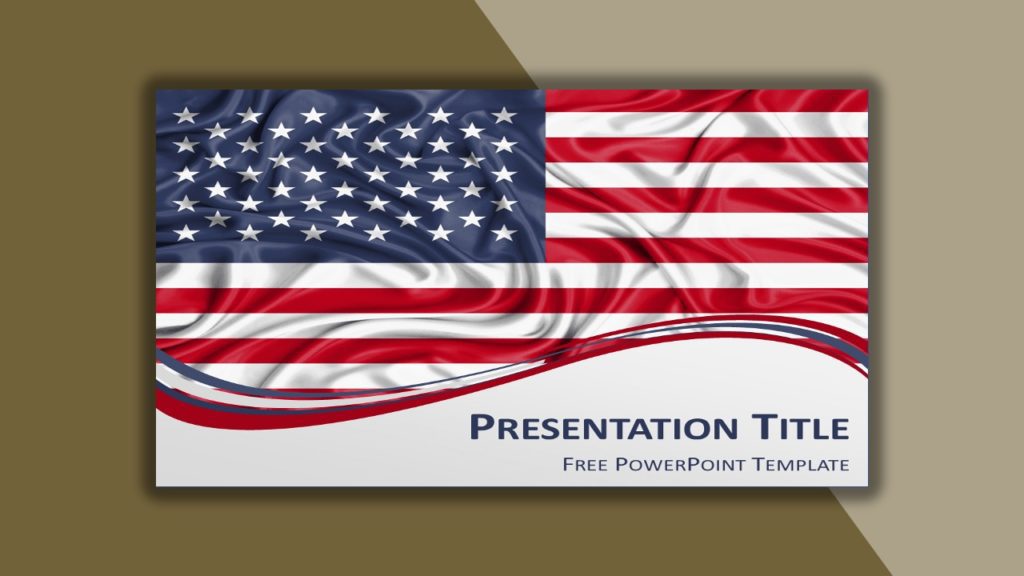 These sets of 5 slides can be the perfect complement to your map templates. Indeed, they include a master slide with an elegant wavy pattern of the flag of the country. You will also find 1 Title and 3 Title and Content slides. If you need to expose information or data about a specific country, this is the template you need. Furthermore, we offer these sets for no less than 50 countries. Take your pick and take your audience on an unforgettable trip!
We hope you like our selection of the 10 Creative Maps for your Presentations.